Tina Fey Avoids The 'N' Word At Comic-Con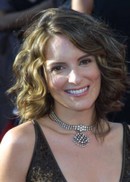 Tina Fey is very sensitive about her fans. There are certain labels they don't appreciate. Even though her 30 Rock character, Liz Lemon, frequently mutters, "Nerds" in frustration, Fey won't say it in real life. She came to San Diego Comic Con to show the fans some footage of her new Dreamworks animated movie Megamind, but she was careful when she took the stage.
"I felt like I didn't want to say anything that would get me in trouble," she said. "I did not want to use the word nerds."
Her former Weekend Update co-anchor did though. "Jimmy Fallon emailed me, like, 'Nerd alert! You're at ComiCon.'"
30 Rock has been a fairly comic book friendly show, so Fey should feel at home at this convention. "It's been great. We just really were at the panel this morning and I sort of drove through. I haven't had a chance to really mingle. I just met a few people right after and everyone is really cool and nice."
Megamind is coming this holiday season.