Timothy Hutton Previews 'Leverage' Season 5: 'This Year Is The Best Yet'
He's back! Tonight, Timothy Hutton returns to lead TNT's Leverage crew in a whole new season of capers and crimes - but before the action starts, he returned to chat with me about what it's like to have played Nate Ford for five seasons and what fans can expect from the show's upcoming episodes.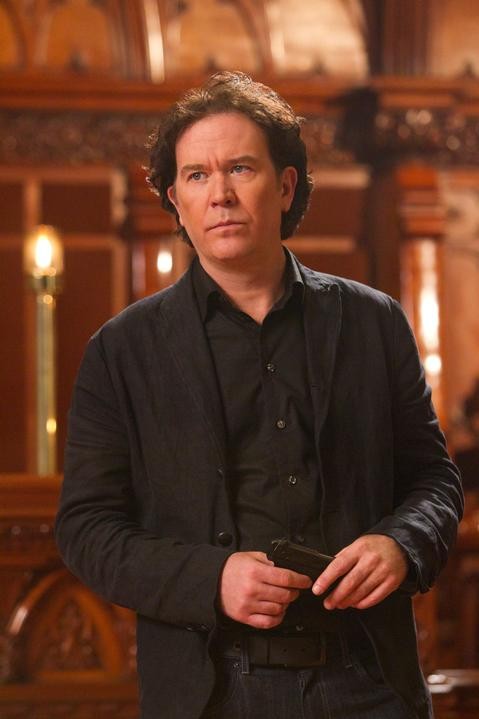 "It really feels amazing to be doing this show and going into the fifth season," he said. "We were all talking about [it] the other day- when we finish [season five] we'll have done 77 episodes. That's pretty incredible these days, for a TV show to be able to do that many, and most importantly for people to continue to come and watch it and be interested in the characters. More than any other season we've done, the time really has flown by. This year is the best yet."
What makes the season so great? Hutton gives some of the credit to more fantastic guest stars, which is something Leverage has become known for. "I got to work with Treat Williams; that was a highlight," he told me. "We've been friends for a long time but have never worked together. That's an episode involving a semi-pro hockey team. He plays the owner and there are some corrupt dealings going on.
"There was another one that we did involving the team going back in time to the early 1970's and trying to solve the disappearance of D.B. Cooper. We've had some great guest stars - Cary Elwes, Steve Valentine, Matthew Lillard, Ronny Cox, Fred Ward, and Mark Sheppard comes back in one of the episodes."
As far as the regular cast, he adds that we'll continue to see his character grow and change, as Nate has done every season, much moreso than most small-screen protagonists. "Nate in season five starts off, coming off of a trip where he's done a lot of thinking and he wants to change things about himself and how he approaches his life," he explains. "He's a much more forward-thinking person, less internal, less selfish. [He's] not the guy who goes to the bottle all the time when there's a problem. He's someone who is taking much more responsibility for the team."
Having lived in Nate's skin for five seasons now, Hutton knows the character very well, and works with the Leverage writers to continue to develop him. "It's a wonderful group of writers and they come up with these characters and thoughts, they do all the research and produce these amazing scripts that we get to go and play out," he said. "As far as any input I have, we have meetings at the beginning of the year where John Rogers and myself and Dean Devlin talk about possible events that could happen in Nate's life, possible storylines, so I've always felt from the first day that it's very collaborative. It's a real ideal situation."
One thing on his resume that he won't be doing in season five: directing. Although he's been in the director's chair for episodes of his previous series, A Nero Wolfe Mystery, and helmed his co-star Christian Kane's music video two years ago, he says he's perfectly happy remaining in front of the camera on Leverage.
Fans of the show might not have fully explored Hutton's lengthy and versatile resume, including being the youngest actor to win the Academy Award for Best Supporting Actor with his role in 1980's Ordinary People. With so many credits to his name, I asked him which of them he would recommend to Leverage fans.
"I'll go back to the beginning of my career and mention some movies that may be a little less known than others, in no particular order," he told me. "For example, a movie called Daniel, directed by Sidney Lumet. A movie called Made In Heaven, directed by Alan Rudolph. Q&A, again directed by Sidney Lumet. Everybody's All-American, directed by Taylor Hackford. Kinsey. Then there are things I think people are more aware of than others, like Beautiful Girls and French Kiss and Last Holiday."
What does he watch? "I'm a big fan of going to the movies," he said. "I mostly watch sports on TV, but I do like Justified, I like The Killing, I like Mad Men, I like Falling Skies."
Another thing Hutton also enjoys is the Leverage cast's strong connection to the fans through social media, namely Twitter. "It's been great," he says. Twitter has such a broad reach, when you're doing a TV show or you've written a book or just [have] something to say. But when you have a loyal fan base and people tune in and know the characters, it's great to post pictures or videos or hints about what's going on.
"It's great for us and it's great for people that watch the show to have that kind of communication back and forth. It's like you're having a conversation in a way. The cast is really good at answering questions and participating." And tonight, that conversation gets to start all over again.
Leverage returns tonight at 9 PM ET/PT on TNT.
You can follow Timothy Hutton on Twitter (@TimHutton). For more from Brittany Frederick, follow me on Twitter (@tvbrittanyf).
(c)2012 Brittany Frederick/Digital Airwaves. Appears at Starpulse with permission. All rights reserved. No reproduction permitted.