TIME Releases '100 Most Influential People' List With Jay-Z & Jennifer Lawrence On Two Of Seven Covers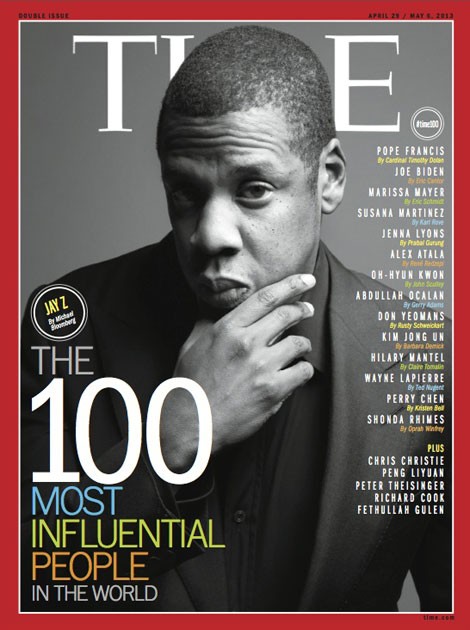 TIME magazine just unveiled its tenth annual TIME 100, a list of the 100 most influential people in the world. The issue features seven different covers for the first time ever, including two showcasing entertainers: hip-hop artist Jay-Z and actress Jennifer Lawrence.
Editors selected guest contributors to write about the honorees. New York City mayor Michael Bloomberg said of the hip-hop star: "He's never forgotten his roots—'Empire State of Mind' was a love song to our city—and as a co-owner of the NBA Nets, he helped bring a major league sports team back to Brooklyn, not far from his old neighborhood.
Bloomberg added, "In nearly everything he's tried, he's found success. (He even put a ring on Beyoncé.) And in doing so, he's proved that the American Dream is alive and well."
Despite being such a powerhouse in and out of the rap community, Jay-Z and his wife (also on the TIME 100) were recently criticized for traveling to Cuba for their anniversary because U.S. law forbids citizens from visiting the communist country for leisurely trips.
Meanwhile, he and Justin Timberlake (another honoree on the list) are teaming up for a 12-date summer stadium tour to promote the pop star's new album, "The 20/20 Experience." Catch them in cities such as New York, Los Angeles, and Chicago.
The TIME 100 features 35 women, including Jennifer Lawrence, 22. She made a pretty large blip on the radar back in 2010 after being nominated for an Academy Award for "Winter's Bone." In 2013, she wound up taking home an Oscar for "Silver Linings Playbook."
Fellow actress Jodie Foster said of the starlet: "You'll remember where you were when you first felt it, how you were stuck to one spot like a small animal considering its end. The Jennifer Lawrence Stare. It cuts a searing swath in your gut. A reckoning. I remember going to the cutting rooms of Winter's Bone. I thought, Sure, this girl can act. But, man, this girl can also just be."
Lawrence also stars in the massively popular "Hunger Games" films. The first trailer for "The Hunger Games: Catching Fire," the second movie in the franchise, was just released.
Other entertainment figures who made the list this year are:
Singer Christina Aguilera
Justin Bieber's talent manager Scooter Braun
Actor Bryan Cranston ("Breaking Bad")
Actress and producer Lena Dunham ("Girls")
Talk show host Jimmy Fallon
Actress Mindy Kaling ("The Mindy Project," "The Office")
Talk show host Jimmy Kimmel
Actor Daniel Day-Lewis ("Lincoln")
Singer Frank Ocean
TV creator Shonda Rhimes ("Grey's Anatomy," "Scandal")
Director Steven Spielberg
Duchess of Cambridge Kate Middleton
The entire TIME 100 list is here. The April 29, 2013, issue of TIME goes on sale on Friday, April 19.