Tim Tebow Goes Shirtless For Vogue Magazine & Reveals He Wants A Woman With 'A Servant's Heart'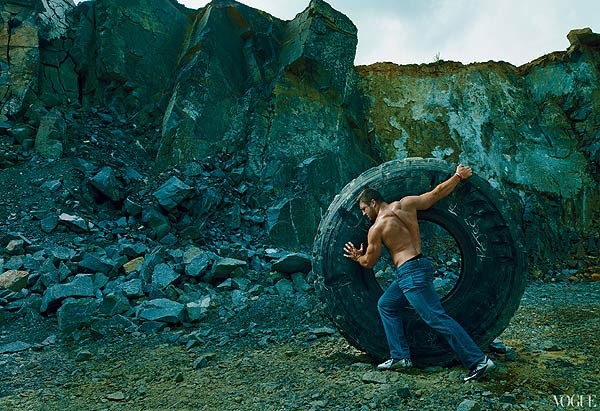 New York Jets quarterback Tim Tebow shows off his rippling muscles in the October issue of Vogue magazine; and the currently single athlete shares his thoughts on what he looks for in a companion in the accompanying interview.

While the devoutly Christian 25-year-old backup to Jets starter Mark Sanchez is currently single, he does reveal what he's looking for in a mate; saying he "definitely, definitely" wants to start a family.

"I've been blessed to have an amazing mom and two amazing sisters—so they set a very high standard," he says in his interview. "Obviously looks play a big part. Being attracted to someone plays a big part, but there's also so much more than that for me. It's about finding someone sweet and kind—and that has a servant's heart. It's about finding a girl who likes me for me, and not because of what I do or who I am or the name."

The quarterback's choice of words about the type of woman he desires caused a little controversy though, with publications and websites foolishly assuming that the term "servant" meant he wanted the future Mrs. Tebow to look like a Victoria's Secret model who cooks, cleans and picks up after him and is always ready to get all "Fifty Shades of Grey" in the bedroom.

Tebow clarified his comments to Vogue to ESPN.com last week though.

"It's something that it's not all about them," he said. "It's someone that can put others first, someone that doesn't always have to be the center of attention and someone that's a helper. Someone that puts their family first, is loving, is caring, all those things, that's what I mean by servant."

And being a servant is something Tebow does really well. Despite his passion for playing football, one of his plans for his fame is using it to bring more attention for his Tim Tebow Foundation, which helps build children's hospitals and orphanages around the world.

"You can get looked at in a certain light, or people think, This is this type of person, he wouldn't do this." Tebow says. "Sometimes it's fun breaking those norms. There are a lot of goals and ambitions that I have in life, things I want to accomplish. Who knows? I mean—it could be politics one day.

"I want to have a life that can help people."


Read Tim's full interview at Vogue.com. TheOctober issue is available on newsstands nationwide September 25th.

Check out a behind-the-scenes video of Tim's shoot below...