Tim Roth Discusses Season Two Of 'Lie To Me'

Lie to Me
became a midseason hit last Spring, offering an intriguing new perspective on crime solving. The Lightman Group specializes in recognizing facial micro-expressions. No matter what the suspect tells them, they know what he or she is really thinking. It's based on the real science of Paul Ekman.
Tim Roth
plays Cal Lightman on the show, the ultimate human lie detector.
Roth says he has no interest in using the science in real life. As soon as he's done for the day, he shuts off. On TV though, we've seen him call the falafel cart guy on not washing his hands and even warn a woman of her dishonest boyfriend. That's not even on the job. It's just his personal public service.
We caught up with Roth after a press conference he gave with the whole cast promoting the show's second season.
The Shield
creator Shawn Ryan joins the team as a producer, and upcoming lie detections will put Lightman at a single's mixer. The show returns Sept. 28 on Fox.
How do you see your character developing? Is there anything maybe in his personal life we don't know about?

Tim Roth:
A lot of that stuff is coming up now. I think that's what Shawn Ryan has brought on, a push for character. You'll start to understand why these people are they way that they are, what makes them tick, and what their loves and their hates are. You'll see the relationships develop between these characters. It's the second season. It;s kind of where it's at right now.
I can't wait to see the singles mixer episode. Have you shot that yet?
Actually these guys were on it today. I didn't have to shoot this morning, but they have already started that one.
But you've read it? Does it seem like fun stuff?
Oh yeah. It's a good one.
How have you found the challenges of shooting for TV versus movies?
Faster paced, but quite often to be honest with you, as an actor you want it to be faster paced. That was never really one of the problems for me. If you work on a very low budget movie that's what you got. That wasn't the challenge. The challenge was all the other stuff that you have to deal with: the politics, the back and forth with the writers, trying to do rewrites as we go, which is normal for TV. When you are dealing with one script, on a film, over a period of a couple of months or so, you don't really have to deal with it. On this you have to, it's constant work, and overlapping work. It was new. It was a new process for me.
Now that you've had some time to develop a character in this long form, what has been the thrill of that for you?
I really do treat it like a piece of theater. I think that if you are on a long run of a play, you've got your character, got your script, done that, and each night you tweak it. Each night you play around with it. I'm not there yet with Lightman. There is a lot more stuff we're bringing into this character but I treat it like that. Each episode I think, "Well, how would he respond? How would he do that? What about if I try this and try that?" So you are always on your toes. It was a real surprise for me. I made all kinds of assumptions I suppose, from the outside, about what it's like to be in one of these things. I got most of it wrong.
Is there a movie role you've played that you think, "Boy, I wish I had the luxury of playing him for two or three years?"
Yeah,
when I played Van Gogh
. I would love to have another crack at that guy.
Is there a movie role that stuck with you more than other roles?
There are many. Some not necessarily for good reasons. I liked playing that guy, the pianist in
The Legend of 1900
. I don't know if you guys ever saw that one. He's a guy who never got off of a ship, he was born on water, and he's a jazz man. I liked him. Again, Vincent was good and the early, early stuff. The stuff I did with
Mike Leigh
and people like that, all of them.
How are you and your family enjoying being here in L.A. now full time?
I've been here for 20 years. I just haven't worked here. You come to L.A. and they go, "Great, you're here, fantastic. Here are a couple of jobs. Terrific, now work everywhere else." That's what was happening so that was actually part of the decision process for me on this. I will stay home. And you do, you stay home. You don't see much of your home though.
Deals are made here, right?
Yeah, I chose to live in California over New York and I'm glad I did. I think I was prepared, as a Londoner, to be much more receptive to New York. In fact, I did live there before I had a family, before I was married with a family, and then the whole thing with schools and all of that is tough. It's tough. I liked the idea of having a bit of grass for my kids to run around on. I got it.
You keep saying you don't want to pick up your character's skills, but can you help letting it sink in?
I was quite honest about and I didn't do the studying. I started doing it and it knocked on the head, because it can be a bit boring. Then I pick it up as I go along. I quite enjoy it secretly.
Have you caught anybody in a lie?
You do, you do catch them. I don't bring it up.
In Hollywood you caught someone in a lie?
No, there are no lies in Hollywood at all.
You just have fun knowing and don't say anything?
Yeah, but a lot of this stuff is acting, right? It's the same stuff as acting.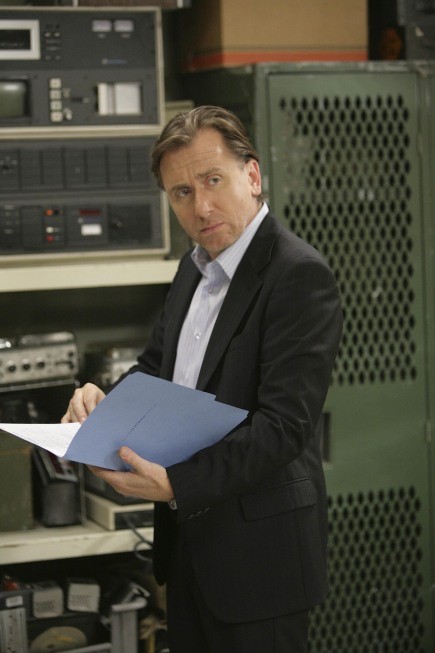 Image © Fox Broadcasting
Where was your truth barometer before you got into this? Were you able to usually tell?
I was a skeptic. I've always been a skeptic. That's how my Dad was and he would go, "Don't trust politicians." Some of them are quite trustworthy. I was always sort of looking for what was behind stuff. It's kind of appropriate I suppose that I ended up playing this character.
With all the shifting that has been done with cast members, a new writer, are we going to see changes not just to the show but also to your character?
You'll see more of what he is, that was one of the things that were very different about the first scripts and the initial season. Towards the end we got a crack at that, but looking at the bigger picture was not uppermost in the writers' minds at that time. Now we have the luxury of "Okay, we're back. Now let's explore that stuff."
Will there be more with Lightman's daughter?
You wait, the episode we're shooting next I get into all kinds of trouble with that because I'm very Dad on it. I get slapped around a lot by my ex-wife and my daughter.
When you say it's going to reveal what he is what do you mean by that?
Not just emotionally where he stands now, but where he comes from, why he does the job that he does. When he was in Britain, what was the deal with him there, why he came to America, what happened to him in American, and then how he ended up setting up his own firm. You're going to see the progression. It's a quite interesting history they've concocted which really makes a lot of sense. They have made up a really interesting back story for him. They have hired a really intriguing English writer as well to help along with that, so you'll get back story.
How is this back story going to unfold?
I can't tell you. They will kill me if I do but there is some good stuff coming up.
Some of the really fun stuff is just going to the falafel cart guy, or people on the street.
Yeah, and there still is an element of that. There is an element of him busted in very mundane ways. I always liked that falafel stand because that's kind of like what we would all like to know.
Who would you like to act against? Who would you like to bring on to the show?
I can't say. There are bunch of very interesting actors coming about. We're going to look very closely in Britain as well as over here.
Have you stayed close to Quentin Tarantino over the years?
Yeah, I was going to do
Inglourious Basterds
but the schedule for the show was just too tight. I couldn't do it otherwise I would love to have done it with him.
Story/Interview by
Fred Topel
Starpulse contributing writer
(Starpulse in Hollywood)
: Every week, Hollywood's biggest stars are meeting in the hot spots and Starpulse is there.