Tim Robbins Joins Occupy Wall Street Protest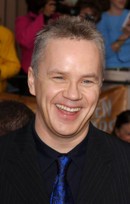 Hollywood star Tim Robbins joined a march in New York on Wednesday to boost a campaign against social inequality.

The Oscar-winning actor was part of the Occupy Wall Street rally in Manhattan where protesters have been speaking out against corporate greed.
Robbins mingled with thousands of demonstrators and praised their dedication to the cause by staging the march, which ended in a protest outside the federal courthouse in Foley Square.

He tells the Financial Times, "This is what an actual grassroots movement looks like. It's a bit sloppy and disorganized but full of passion."

Robbins is not the only star to have backed the movement - his former partner Susan Sarandon threw her support behind the protest last week, while filmmaker Michael Moore also joined a march.