Tim McGraw Talks Sobriety & Getting Back In Shape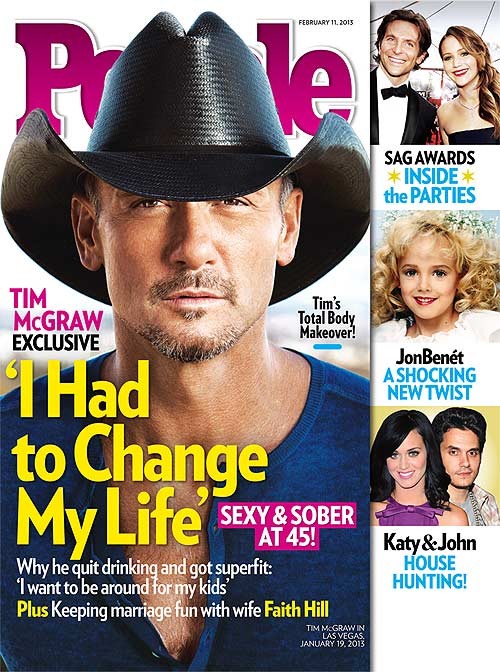 Country superstar Tim McGraw opens up in this week's issue of PEOPLE about why he quit drinking, what keeps his marriage to Faith Hill so strong, and how a new workout changed his life. The result? A solid marriage – and solid abs. McGraw, 45, admits he was drinking and partying to an extent he felt was out of control. "I wasn't a beer drinker. I was more a whiskey drinker. And I wouldn't just have a drink. If I was going to drink, I'd have some drinks," he tells PEOPLE. "People were worried about me. It was to the point where I felt it was negatively affecting my relationships and getting in the way of things I wanted to accomplish in life. So I quit."

Sober since 2008 ("I don't drink at all; it's not a part of my life anymore"), McGraw has traded whiskey for weights and is gearing up to release his new album Two Lanes of Freedom (out Feb. 5) in the best shape of his life. "My workout program took the place of alcohol, and it's really important," says McGraw, who now boasts a swoon-worthy eight-pack thanks to an intense pretour workout (he trains with martial arts expert Roger Yuan for 90-minute sessions three times a day) and sticks to a strict no-sugar, no-wheat, high protein diet. But aside from getting fit, "I felt like I had to change my life," he says.

It's a change that's not only done a body good. It's also helping things in the relationship department. "I am probably less embarrassing to her now!" says McGraw with a laugh. As his 17th anniversary with Hill, 45, approaches, he says, "We are connected. We like spending time together." Aside from their "date days" when they steal time away to go out to lunch or a matinee, the pair is also co-headlining their Soul 2 Soul show in Las Vegas, where they belt out hits and get tangled up in love ballads. "We forget how cool it is to perform together," McGraw says. "Sometimes, we get lost in it, we get lost in each other."

In the past, getting to the mic wasn't easy for McGraw. "I ran into a lot of problems after a show where you wanted to keep the party going. I had to relearn how to do a show without alcohol." Enter the sweatbands. When he's out on tour, McGraw commits to a two-hour workout in the morning and another two-hour session in the afternoon. So now "when I hit the stage, my adrenaline is going and by the time I come off the stage I'm ready for bed because I'm exhausted," says McGraw, who trimmed off 40 lbs. from his 6-ft. frame and toned up his physique. "I was always in pretty good shape but for awhile I let it go a little bit. There are aches and pains but I feel pretty young."

As always, McGraw focuses on what's best for his girls – Gracie, 15, Maggie, 14, and Audrey, 11. "The driving force for me to be healthy and fit is ultimately for my kids. I want to be around for them," he says.

Right now McGraw is savoring his Sunday nights at home watching Downton Abbey with his family before embarking on a 30-city tour in May. "I am firing on all cylinders," he says. "I'm in a good place all around. I don't feel like this is as good as it's going to get – but I feel like I'm better than ever."

The new issue of People magazine is on newsstands everywhere now.

*Also In This Week's 'People'*
Exclusive Book Excerpt – Jenna Miscavige Hill's Escape From Scientology
Katy Perry & John Mayer – House Hunting: "They Really Seem Very Happy"
First Lady Michelle Obama: "My Husband Is The Real Singer In The Family"
Kevin Bacon: "I Saw Life Of Pi And Cried Four Times"