Tim DeKay Talks Directing Tonight's 'White Collar'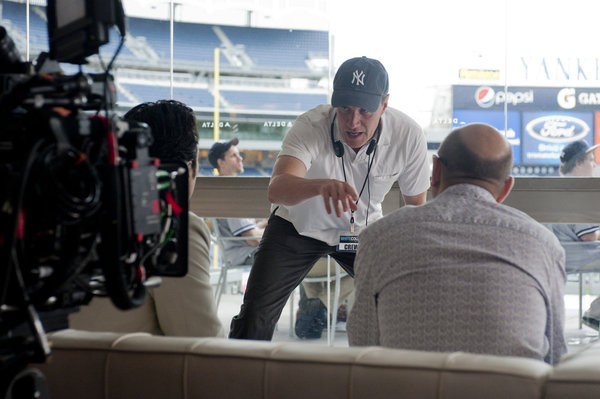 White Collar star Tim DeKay made his directorial debut on the show last season with the episode "Stealing Home." He's back behind the camera with tonight's episode, "Empire City." To mark the occasion, Tim spoke with BFTV about what goes into his directorial efforts and the continually developing dynamic between Peter Burke and Neal Caffrey.
(SPOILER ALERT - This interview contains spoilers for the most recent episodes of White Collar.)
"We have a very supportive cast and crew, and everybody's rooting for you, and you're rooting for them. We're all in this together," explained the actor, who plays veteran FBI agent Peter on the hit USA original series.
When it comes to balancing his commitment off-camera with his on-camera duties, "The writers try to have it so that Peter is a little bit lighter in the episode. Usually Peter is a little bit lighter in the prior episode [as well] so that I have time to prepare," he added, explaining that contributed to the decision to have his character involved in a car accident during last week's installment.
"But I also like these kind of episode where everybody is involved. I think it's rather enjoyable to watch an episode like last week's, and I think this week's, where every character has at least one clever moment where they cleverly either divert the bad guy or figure out something that helps move the case along. It's great fun when everybody on the show has at least a clever moment."
Peter is not entirely absent from this week's episode, however, which means that DeKay was in the position of having to critique himself. "It's not too difficult to be honest with you," he said, discussing what it's like to direct his own performance. "Channing Powell, who wrote the episode, she was there the whole time. I look to my DP [director of photography] a few times.
"And it's open enough on our set that I can talk to Channing on whether or not the moment works. I can talk to Matt Bomer or Willie [Garson] or Tiffani [Thiessen], whomever, and say, 'Does that work? What do you guys think?' And then, the other thing is ninety percent of the time, I'll know whether or not the moment is right for me, as far as acting. So, it wasn't too difficult."
"I think the biggest challenge for any of these episodes is the clock," he continued. "The writers always write a wonderful big episode, so it seems, and you always want to be able to have a lot of coverage. You think of all these cool shots, but there just isn't enough time in the day. The biggest challenge is that you tell the story within those seven days, where there are twelve hours allotted, and you tell the story in the White Collar fashion, and make sure it's snappy, it's fun, it's clever, and all those other adjectives we can think of for the show."