Tim DeKay, Matt Bomer Preview 'White Collar' Season 5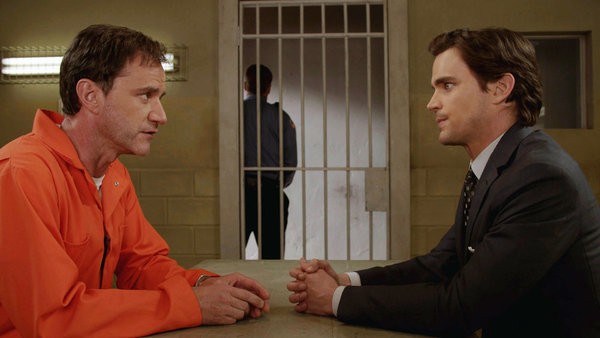 The tables have turned in the new season of USA's White Collar. FBI agent Peter Burke (Tim DeKay) finds himself in prison while ex-con Neal Caffrey (Matt Bomer) strives to clear his name, after Neal's own father left them both hanging. BFTV recently connected with Tim and Matt for a chat in which they talked to us about how things have changed and the many characters who will come into play during Season 5.
In a key scene from tonight's premiere episode, "At What Price," Peter and Neal have a conversation in which Peter basically admits that he is no longer objective when it comes to his one-time adversary turned partner. It shows just how far their relationship has come over the years, and it doesn't quite affect Peter the way you might think.
"It should have been a humbling moment for Peter. It was a disappointing moment for Peter," DeKay reflected. "It was upsetting for Peter because it meant not being able to do the things that he loves to do with Neal - which is, you know, pursue a case and do the chase. That's what Peter found most upsetting. Peter now has a personal investment with this guy, and if that relationship, that partnership fails, then Peter has failed."
While Peter's indisposed, Neal is teamed with a new handler, David Siegel - played by another vastly underrated actor, Warren Kole, who formerly toplined another USA crime show, Common Law, and was most recently seen on FOX's The Following. Both Matt and Tim had plenty of praise for Warren while discussing how Siegel fits into the dynamic of the series.
"Neal's initial reaction to Siegel is one of trepidation," Matt said, "because he is very by-the-books, by-the-numbers, and he's an agent who's gotten to where he is because he plays by the rules. And that's obviously very threatening to Neal. Warren did a great job of bringing lots of different aspects to the character, and somehow making him charming and entertaining, at the same time as being sort of a paint-inside-the-lines guy."
"There was trepidation as well on Peter's part, with handing over the reins," Tim concurred, "But as Matt said, I thought Warren did a fantastic job playing the role, and was able to find the right tenor for what was needed on our show and the kind of genre that we have."
And while Peter will obviously get out of custody at some point early in the season, the actor playing him explained that there might have even been some untapped potential in his temporary replacement. "I don't think we'll regret it at all," Tim continued. "I think if anything, it would have been nice to have seen more of Warren, and certainly David Siegel. I think [it] would have been fun to stretch out Siegel.
"This is not a comment on the writing. You completely understand why they have to do the things they do," he added. "But it's more of a comment on how much I thought Warren brought to the role and just the dynamic between Peter, Neal and David Siegel."