Tila Tequila Agrees To Enter Rehab After Hospitalization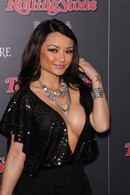 Reality TV star Tila Tequila has agreed to enter rehab following her hospitalization in Los Angeles last Wednesday, according to a report.

The star was taken to St. Joseph's Hospital for psychiatric treatment after an alleged suicide attempt and she was discharged on Monday to continue her recovery at home.

Tequila's manager has now told TMZ.com the star has agreed to enroll at a rehab clinic for further treatment.

A post on the star's website reads, "Tila thanks all her fans for well wishes and is currently still recovering. We appreciate your respect for her privacy at this crucial time."