Tierra Literally Falls For Sean This Week On 'The Bachelor'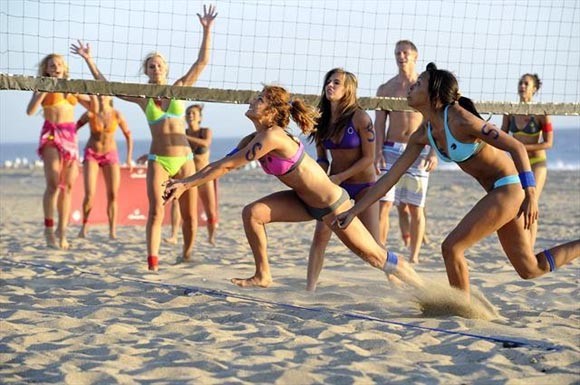 As AshLee is getting ready for her one-on-one date, Tierra falls down the stairs- hard! Sean happens to come in at that very moment and Tierra steals the spotlight from AshLee. Sean calls the ambulance thinking the girl has a concussion and AshLee's date day has a black cloud looming over it. Tierra is pleading with the EMTs telling them that she doesn't want to go to the hospital and gets up off the stretcher steal the spotlight away from AshLee, again. She will go to any length to get Sean's attention...what a little sneak! As AshLee waits for her date, Sean and Tierra are snuggling outside on the patio. 
Finally, Sean and AshLee head out to Six Flags Magic Mountain amusement park with a few young girls with chronic illnesses. It is a very sweet gesture that Sean plans for AshLee knowing that she is a charitable and caring person like he is. It is a very moving moment when the two girls, who have been pen pals, finally meet each other, get to spend the day together at the park and have a private concert with the Eli Band. AshLee definitely deserves that rose tonight. Sean actually sheds a few tears when AshLee tells him the story of her adoption. It is that moment when the two seem to connect on a different level than any of the other girls. Move over Desiree, we think there's a new frontrunner in town!
At the cocktail ceremony before the rose ceremony, Sean pulls Sarah outside first because she didn't get a date this week. A limo pulls up to the house and as Sarah thinks she will be going home, her dog Leo gets out of the car and the three have a play date in the driveway. Next to be taken out of the pack is Tierra and she assures him that she is fine after her spill down the stairs as Desiree steals him away...but only for a few minutes as Tierra steals him back. The claws are out as the girls are stealing Sean away left and right as if they were clepto teenagers at the mall. As Kacie gets her two minutes with Sean, we can tell that he is completely turned off by her now. Will she get kicked off tonight? We will know soon as Chris Harrison comes in announcing that the rose ceremony will now begin. 
The first rose goes to.....hold up, he needs to talk with Kacie first and he tells her that they are better off as friends. At least he didn't embarrass her in front of all the other girls. He gives the first rose to Tierra, then Leslie, Catherine, Daniella, Robyn, Selma, Sarah, Jackie, Amanda and last but not least- Desiree sending Kristy and Taryn home.