Tierra Literally Falls For Sean This Week On 'The Bachelor'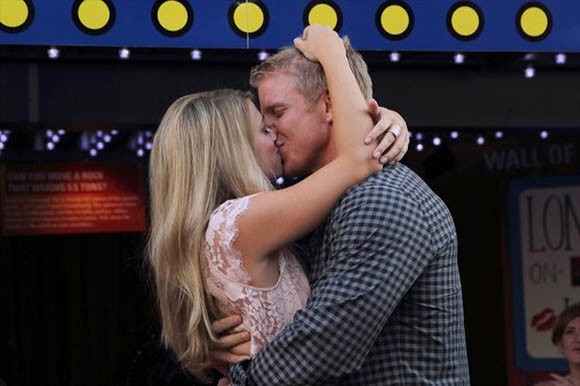 First of all, ABC needs to stop opening the show with Sean either working out, showering, or doing anything without his shirt on. Cut back to the sixteen remaining ladies in the house and the date card goes to...Lesley. Sean picks her up in a limo and the two head out to Hollywood Boulevard to the Guinness World Records museum. Sean reveals that his own father holds a record for traveling 48 states continuously in the shortest amount of time and that the two of them will attempt to set their own world record for the longest onscreen kiss. We don't think these two will have a problem with this one and although we were scratching our heads while Sean said how great of a kisser Lesley was (because the entire three minutes were ridiculously uncomfortable) the two now hold the record. Who were the creative minds behind that stunt, ABC? Next, the two head up to the top of the Roosevelt Hotel for some dinner, champange and conversation about the future. Lesley tells Sean that he makes her nervous and it really seems like he is into her as he hands her the rose.
The next date card goes to Kacie, Robyn, Leslie, Taryn, Kristy, Catherine, Desiree, Amanda, Lindsay, Daniella, Jackie and Tierra leaving Selma, Sarah and AshLee to fight for the next one-on-one date card. The twelve girls meet Sean at Zuma Beach in Malibu where they will toss around a Frisbee and strip down to their bikinis. Here comes Sean's pecks again! Chris Harrison appears and lets them know that they will be competing in a beach volleyball game and the losing team will be heading home while the winners will get to spend more time with the man of the hour. The girls are putting in their best effort and seem like they are having fun but their competitive sides are coming out as well. Desiree and her team win sending Taryn and her team home, who admitted that this was the biggest moment of her life...really? The losing team gets in the van, most of them crying, as the winners get to have an outdoor candlelight dinner with Sean. 
Sean singles out Lindsay first and she tells him that he is everything she is looking for and more. Macaroni called, it wants its cheese back! Next, Sean pulls aside Desiree and again we are convinced that she is the frontrunner. It is a little awkward though when Sean tells her that she looked cute in her bikini and she answered, "Oh good!" The next date card arrives at the house and it goes to AshLee (not after Tierra says and Selma too!). Cruel joke, Tierra, cruel. Back at Sean's house, the girls overhear Amanda talking to Sean and they are convinced she has another personality when Sean is around, so Kacie decides to tell Sean about her....and Desiree. We had no idea that Desiree would be pulled into this, Kacie, and we think you may be the next to go. Sean agrees with us and asks her why she is involving herself in the drama and calls her a crazy person. Bye bye Kacie...and the rose goes to Lindsay.