Tia Mowry Chats About 'The Mistle-Tones,' Her Christmas Favorites and Broadway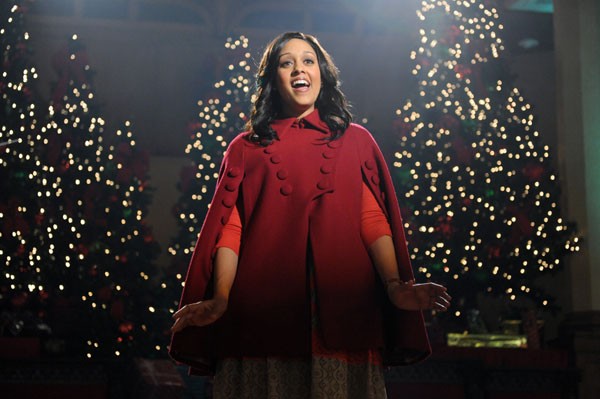 'Tis the season for a Christmas musical!
Tia Mowry is back on the small screen for ABC Family's original musical, The Mistle-Tones, co-starring Tori Spelling as her arch nemesis. We caught up with her to talk about The Mistle-Tones, her favorite Christmas movies and the possibility of her heading to Broadway.
Can you tell us a bit more about The Mistle-Tones and your character, Holly? 
Holly is a woman that absolutely loves everything about Christmas. She wants to carry on the tradition her mom had, which was singing Christmas carols at a competition at the end of the year. Once her mom passes away, then she auditions to be in the Snow Belles. She was told she couldn't be a part of the group and she was devastated, so she decided to start her own group, hence the Mistle-Tones.
We know that you have a musical background. Would you ever consider recording an album or doing a play?
I would love to do a play! Being a guest on a Broadway show would be so incredible! There's a lot of work and traveling that goes into recording an album, so I don't think that would work well for my family, but doing a play is something I would love!
The Mistle-Tones seems like a perfect holiday movie. What's your favorite Christmas movie?
Home Alone and Home Alone 2 will always be my favorite Christmas movies!
You and your co-star, Tori Spelling, have a lot in common: Parenthood, reality TV and hit '90s shows. What was it like working together?
It was amazing working with Tori. She is so sweet and wonderful and kind, and a hard worker. She's a great mom also, and I loved being able to work with her.
How do you successfully balance your career and motherhood?
You just take everything a day at a time, and minute by minute. You also forgive yourself and go with the flow. You can't be perfect.
Lastly, what was your favorite song or performance from the movie?
"O Holy Night" was my absolute favorite. I love that song and to have the chance to sing it was incredible.
The Mistle-Tones premiered on Sunday, December 9nd. The musical will re-air on Thursday, December 13 at 5:00 PM, Tuesday, December 18 at 12:00 AM and Thursday, December 20 at 3:00 PM.
Did you tune in for The Mistle-Tones? Share with us below!