T.I. Still In Touch With Man He Saved From Suicide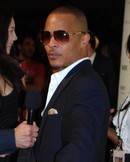 Newly-freed rapper T.I. is continuing to provide support to a man he saved from suicide last year, insisting the pair recently met and his new pal is "doing very well."

The "Live Your Life" hitmaker was able to successfully convince the troubled soul to step away from the ledge of a 22-story building in his native Atlanta, Georgia in October, 2010 after offering his help to police during a stand-off. The desperate man was subsequently taken to a nearby hospital for a mental evaluation before being released.

T.I. vowed to maintain the new friendship and the star made reconnecting with the man one of his top priorities after completing his 11-month prison sentence for a probation violation last month.

The rapper tells talk show host Chelsea Handler, "I've seen him lately. I've seen him since I got out and he's doing very well."