T.I. Makes His Return At BET Hip-Hop Awards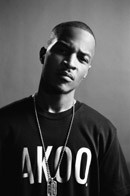 Newly-freed rapper T.I. made his post-prison return to the stage at the BET Hip-Hop awards on Saturday night.

The hip-hop star was recently released from jail to a halfway house after serving a 10-month sentence for a probation violation, and was made a free man on Thursday.

T.I. made his return to the spotlight official by making a surprise appearance at the glitzy prizegiving in Atlanta, Georgia, taking to the stage with Young Jeezy, who opened the show.

The star then performed solo, while later in the ceremony, DMX, who was freed from prison in July, also made his return by performing with Swizz Beatz, according to Allhiphop.com. The ceremony also saw performances from Big Sean, Lupe Fiasco and Wiz Khalifa.

The night's big winners were Busta Rhymes and Chris Brown, who took home a number of prizes for their hit collaboration "Look at Me Now," including the Perfect Combo Award and The People's Champ Award, which they shared with Lil Wayne.

Rhymes told the crowd at the Atlanta Civic Center, "You know what the best thing about winning an award is? For me the best thing about winning an award is when the people cheer for your win. When you can see that the people are really happy that you are winning something, that's the most reward thing in the world. Thank you."

LL Cool J was honored with the I Am Hip-Hop Award for his career achievements and he performed a special rap to express his thanks as he picked up the trophy.

He rapped, "My acceptance speech/what I won't do is try preach/I won't assume that I am smarter than you and try to teach/What I will do is set an example for you and inspire you to reach for the stars that's beyond Mars that space bars can't delete/Because without a dream fulfilled your life's incomplete."

The rest of the winners will be announced when the awards show is broadcast on TV on October 11.