T.I. In Trouble For Allegedly Conducting Business On Prison Bus Journey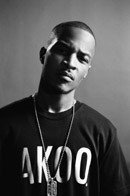 Embattled rapper T.I. was hauled back to prison last week after he was caught allegedly conducting banned business meetings onboard his bus to Georgia.
 
The hip-hop star, real name Clifford Harris, Jr., walked free from an Arkansas incarceration facility last Wednesday after serving 10 months of an 11-month sentence for a probation violation.
 
He hired his own luxury bus to transport him to a halfway house in his native Georgia, where he was due to complete his punishment, but was taken into custody in Atlanta on Thursday amid claims he had failed to properly notify prison bosses about the lavish vehicle.
 
However, it has now emerged that prison officials actually objected to the company he reportedly kept on the bus. He was only expected to travel with his wife, Tameka 'Tiny' Cottle, but passengers also included his manager and two producers from TV network VH1.
 
In documents obtained by TMZ.com, a prison representative writes, "Such people were not authorized to travel with him in the conditions of furlough. He further indicated he was discussing a new reality series and a book with these individuals, but made a point of indicating it was not an interview.
 
"Inmate Harris had not been authorized to be in contact or be in the presence of his manager or others, except his wife, during his travel."
 
The rapper also fell foul of the law by allegedly discussing potential business ventures with the VH1 executives, which was not allowed under prison guidelines.
 
Representatives for T.I. announced details of the rapper's plans to document his post-prison life for TV and write a fictional novel just hours after he left Arkansas. He is due to remain behind bars in Atlanta until September 29.