T.I. Gives Out Thanksgiving Turkeys To Children In Need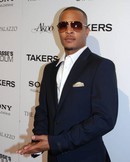 Rapper T.I. embraced the Thanksgiving holiday spirit on Tuesday and handed out 300 turkeys to the poor in his native Georgia.

The "Live Your Life" hitmaker took part in a charity drive at The Carrie Steele-Pitts Home in Atlanta to benefit abused and neglected children as part of the American holiday, which falls on Thursday.

And T.I., who endured a troubled childhood himself, is grateful to have been of help and to have brought some joy to kids in need.

He tells TMZ.com, "It's an honour and a pleasure to be able to be there and serve those who need me most in the community."

T.I. isn't the only charitable star to share the wealth this Thanksgiving - Lil Wayne and his Cash Money Records bosses Bryan 'Birdman' Williams and Ronald 'Slim' Williams handed out turkeys to the needy in their native New Orleans, Louisiana last week.