T.I. Back In Prison After Dispute Over Luxury Coach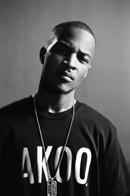 Rapper T.I. will spend the next few weeks behind bars after falling foul of prison authorities over his method of transportation upon leaving an Arkansas incarceration facility last Wednesday.

The "Live Your Life" hitmaker, real name Clifford Harris, Jr., walked free after serving 10 months of an 11-month sentence for a probation violation.

He was due to transfer to a halfway house in his native Georgia to complete his punishment, and had made arrangements to travel the 375 miles to the center in comfort, hiring his own luxury coach.

But the rapper was hauled back into custody on Thursday after prison bosses took issue with the coach, insisting he had failed to notify them that the simple van he had planned to ride was in fact a deluxe bus.

T.I. is now back in federal custody in Atlanta and is due to remain there until September 29.