T.I. And Floyd Mayweather Jr. At The Center Of Huge Brawl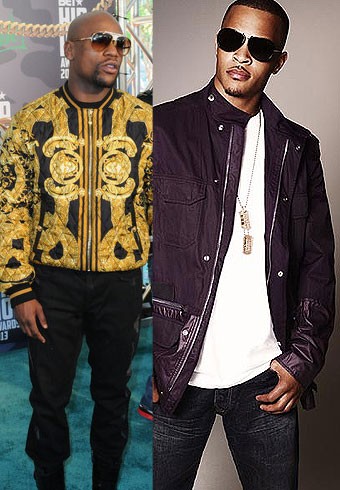 T.I. and fighter Floyd Mayweather Jr. got into a heated scuffle Sunday morning when the rapper took a swing at Mayweather at the Fatburger restaurant in Las Vegas.

The two had words before T.I. threw his punch, and both stars' entourages stepped in to break things up, which is when an all-out brawl began, complete with chair throwing and one man ending up slashed across the midsection.

Police arrived shortly after the fight to see Mayweather leaving and learn that T.I. had already left. The injured man refused medical treatment and has also chose to keep his mouth closed about the fracas.

Both celebs have now shared their sides of the story. T.I. shared a short video on his instagram page, revealing that stories of him suffering two black eyes have been wrong. He did, however, mess up his hand during the brawl, showing off his gauze covered hand and saying, "F**ked my hand though, that's about it."

Mayweather has also commented, saying that his friendship with T.I.'s wife, Tameka "Tiny" Cottle, may have been what started the fight.

Cottle and Mayweather have been friends since before she met the rapper.