Thursday To Play Xbox's 'Game With Fame'; Win 'Halo 3' Here!

Post-hardcore band
Thursday
, celebrating the release of their latest album
Common Existence
, will play Call of Duty: World at War with Xbox LIVE Gold members March 21.
If you're an Xbox LIVE Gold member (
if not, upgrade now!
), and you want a chance to play with Thursday, send a friend request to the Gamertag "Thursday GWF" and be online half an hour before (2:30 p.m. EST) the Game with Fame session startson Saturday, March 21, 3:00 p.m. EST.If you get a chance to play with Thursday, Xbox wants to hear about it! Send an e-mail to
xlmail@microsoft.com
with the subject: "GWF Thursday." Be sure to include your Gamertag and hometown.
Since
SPIN
Magazine called them "the next big thing" in 2004, the band has released their classic
A City By The Light Divided
, the CD/DVD package
Kill The House Lights
, a split EP with Japanese band
Envy
, and now, perhaps their most emotionally-felt album,
Common Existence
. "Writing this album was an enormous amount of work because we wanted to do something that was a progression and was also closer to the heart of what Thursday's sound is about," singer Geoff Rickly explains. "Despite all the hard work, it's the most fun I've had making a record." Their intense lyrics, incendiary vocals, and amazingly unique sound has won them fans all over the world. The band consists of Rickly, guitarists Tom Keeley and Steve Pedulla, bassist Tim Payne, drummer Tucker Rule, and keyboardist Andrew Everding.
Thursday talks about being on 'Game With Fame'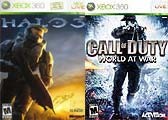 Details on the 'Game With Fame':
Who: Thursday
Date: Saturday, March 21
Time: 3:00 p.m. 5:00 p.m. EST (Noon 2:00 p.m. PST)
Game: Call of Duty: World at War
Gamertag: Thursday GWF
Link