Throw An Anti-Valentine's Day Party!

Whether you're brokenhearted and bitter, single and spectacular, or just plain sick of the over-hyped Hallmark holiday that falls on February 14, don't let Valentine's Day get the best of you. Turn it into a cynical celebration!
If you're a singleton staying in to avoid all the schmoopy-schmoopy hand-holding, there's still no reason you should have to spend V-Day all alone. Ladies, invite your gal pals over and get loaded on champagne while playing silly games like "Truth or Dare" or "I Never." And guys, you can get all the dudes together to do all the things your girlfriends complain about, like smoking cigars and playing Xbox/Guitar Hero/poker all night long. (And sure...go ahead and watch some porn.)
If you're looking to create the proper Anti-Love atmosphere for your party, you could make a miserable mix CD or watch some unromantic movies. Here are a few ideas...
Not-so-sweet music:
"Love Stinks,"
J. Geils Band
- THE quintessential anti-love song.
And so it goes/'Til the day you die/This thing they call love/It's gonna make you cry
"Love Hurts,"
Nazareth
- A perfect crying-in-your-beer song for the recently dumped.
I know it isn't true/I know it isn't true/Love is just a lie/Made to make you blue
"Love Will Tear Us Apart,"
Joy Division
- No one does depression better than these ironically named New Wavers.
Why is the bedroom so cold?/Turned away on your side/Is my timing that flawed?/Our respect run so dry
"I'm Through With Love,"
Ella Fitzgerald
- A rather melodramatic torch song for the truly brokenhearted.
I've locked my heart/I'll keep my feelings in there/I have stocked my heart/With icy, frigid air
"You Oughta Know,"
Alanis Morissette
- For the more angry dumpees.
And I'm here to remind you/Of the mess you left when you went away
"Don't Come Around Here No More,"
Tom Petty
and The Heartbreakers - For those whose exes just won't go away.
Stop walking down my street/Who do you expect to meet?/Whatever you're looking for/Hey, don't come around here no more
"Single Ladies (Put A Ring On It),"
Beyonce
- This one's for the girls.
Up in the club, we just broke up/I'm doing my own little thing/Decided to dip and now you wanna trip/'Cause another brother noticed me
"Rolling With My Homies,"
Coolio
- And this one's for the boys.
Saturday morning, take the train for a ride/The sun is up, I got my homies by my side
"I'm Free," Soup Dragons - When you just wanna celebrate your freedom. (You could also use the Rolling Stones original, but it might be harder to find.)
I'm free to do what I want/Any old time
"One More Minute,"
Weird Al Yankovic
- For those of you who can't do anything but laugh at your own love life.
Yes, I'd rather jump naked on a huge pile of thumbtacks/Or stick my nostrils together with crazy glue/I'd rather dive into a swimming pool filled with double-edged razor blades/Than spend one more minute with you
Salty, sour and/or sick movies:
"
(500) Days of Summer
" - On the surface, this seems like a sweet, lighthearted film, but it's a grim reminder that you can't force someone to love you, no matter how much you love them.
"
The Break-Up
" - A surprisingly realistic look at a good love gone bad. If you don't like the glimmer of hope at the end, you can always assume that
Jennifer Aniston
gets hit by a car after the credits roll.
"War of the Roses" - Talk about good love gone bad. Sometimes, for no real reason, people just grow to hate each other. And the hate between
Kathleen Turner
and
Michael Douglas
is delicious.
"
Fatal Attraction
" - Michael Douglas again, this time on the receiving end of crazy bitch who refuses to be ignored.
"Valentine" - For all of those "nerds" who couldn't get a date in high school, here's your revenge fantasy. Hey, if someone won't be your Valentine, they deserve to die in grisly fashion, right?
If all this party planning sounds like too much work, you could be brave and wade through the sea of couples out and about on Cupid's night. Don't be intimidated, because there are plenty of Anti-Valentine's Day events happening all around the country. Just check your local paper.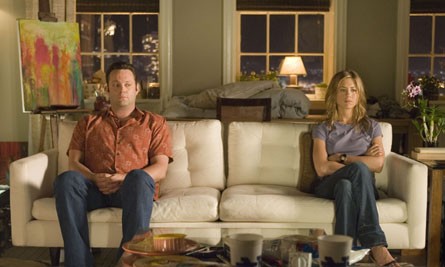 Image © Universal Studios
"The Pop Eye @ Starpulse" is a column written by native Pittsburgher and current New Yorker,
Becky Broderick
. You may contact Becky directly at beckeyeam@gmail.com, or check out her other ramblings on
The Pop Eye
.