Three-Hour Lesbian Love Drama 'Blue Is The Warmest Color' Wins Top Prize At Cannes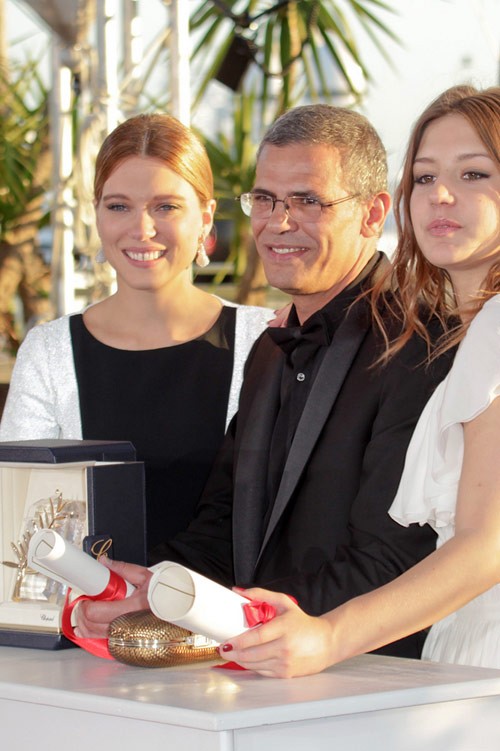 Lesbian romance "Blue Is The Warmest Colour" was named the winner of the Palme d'Or award at the 2013 Cannes Film Festival Sunday night.

The award was presented by this year's jury president Steven Spielberg, who announced that the prize was not only being awarded to the film's Tunisian director, Abdellatif Kechiche, but also to its two stars, Adèle Exarchopoulos and Lea Seydoux. It's also the first time an openly gay film has won the award.

"The film is a great love story that made us all feel privileged to be invited to see this story of deep love and deep heartbreak," Spielberg told the Associated Press. "The director didn't put any constraints on the narrative."

The top prize is traditionally given only to the director of the winning film.

Based on French authoer Julie Maroh's graphic novel "Le Bleu Est Une Couleur Chaude" ("Blue Is A Warm Color"), the film tells the coming-of-age story of a Adele (Exarchopoulos), a closeted 15-year-old girl who falls in love with older woman Emma (Seydoux).

The film is sure to stir up controversy once it's released later this year because of its graphic sex scenes and its three-hour run time.

According to The Hollywood Reporter, Blue will "raise eyebrows with its show-stopping scenes of non-simulated female copulation" and its "passionate, poignantly handled love story."

Seydoux and Exarchopoulos's performances are "virtually flawless," according to Film School Rejects; and "the graphic sex scenes are both enjoyable to watch and psychologically potent."

Joel and Ethan Coen's "Inside Llewyn Davis landed the Grand Prix award (second place); while Berenice Bejo and Bruce Dern took home the top acting awards for "The Past" and "Nebraska," respectively.

Sundance Selects purchased the Blue for distribution. The film will be released as "La vie d'Adele - Chapitres 1 et 2" in France on October 9, while the U.S. release date for "Blue Is The Warmest Color" has yet to be announced.