Three Grandmas Watch Kim Kardashian's Sex Tape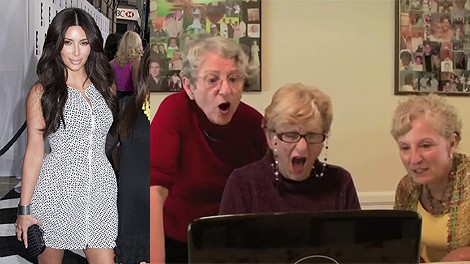 What happens when three Italian old ladies start talking about the Kardashians? Their conversation quickly turns to Kim and her now infamous sex tape.

And that's not all, Josie, Teresa and Mary - who run their own website called Three Golden Sisters and offer "Free Italian Mother Advice" - have lunch together ever Wednesday, and it seems that they're not shy about much.

Their antics go from lip-synching Whitney Houston's "I'm Every Woman" to checking out one of their grandsons' bongs on 4/20; but on this particular day their discussion over who their favorite Kardashian sister quickly turns to the three of them dialing up Kim's sex tape with rapper Ray J on the internet.

"Kim is excellent in bed," says one when another asks who her favorite is.

The comments they make are pure gold - "What is her problem? She's just laying there," says one; but it's the last word that rings true: "We're not supposed to be watching this - get outta here!"

Check out the video below, it'll have you in stitches. (Video is safe for work but there's a lot of descriptive sex talk).