Thousands Of Screaming Fans Attend One Direction Movie Premiere In London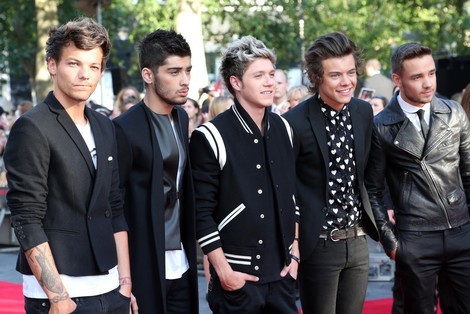 The center of London was a madhouse on Tuesday as 70,000 fans attended the premiere of "One Direction: This Is Us" in Leicester Square.
One Direction band members Liam Payne, Harry Styles, Zayn Malik, Niall Horan and Louis Tomlinson walked the red carpet at the Empire cinema to promote their new film, which documents their meteoric rise to fame after they came together in 2010 on the U.K. "The X Factor."
Simon Cowell, who helms both the American and British version of the TV talent show, helped create the band and attended the premiere, telling reporters he "felt like a father" to the band. Cowell, in fact, is preparing to become a first-time dad after finding out a former flame is expecting their first child.
Director Morgan Spurlock ("Super Size Me," "Where in the World is Osama Bin Laden") was also at the event and admitted it was "the greatest movie premiere I have ever been to in my life."
Three members of the band Little Mix also attended the premiere, and Perrie Edwards flashed an engagement ring to the crowd. She and Malik, who have been dating since 2011, are planning on tying the knot. The stars, both 20, were spotted kissing on the red carpet, and they sat next to each another inside the theatre.
One Direction was reportedly ordered to not party after the premiere to avoid causing chaos in the British capital. Horan explained, "The 'after show police' have been trying to stop us doing anything because there'll be so many fans trying to get in."
Check out more photos from the premiere...