Thoughts On The 2014 People's Choice Award Music Winners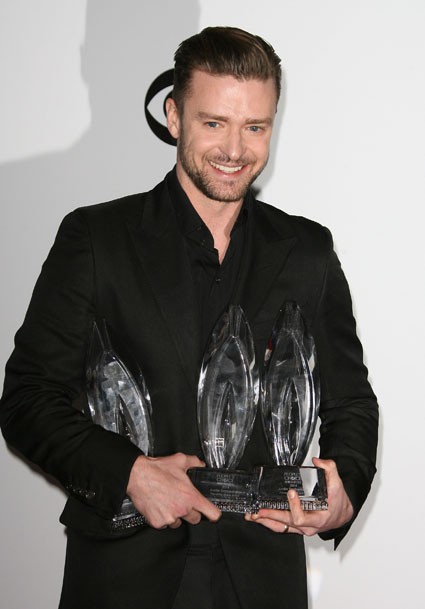 Favorite R&B Artist:  Justin Timberlake
Here's my issue with this category.  Timberlake won previously for Best pop artist, so why should he also be considered an R&B artist?  Sure, Timberlake is nominated for Grammys in both pop and R&B categories this year, but most of his career he's been honored as a 'pop' artist.  Is he more urban-leaning? Definitely.  But, should Timberlake carry the torch for two distinct categories? The other side of that is who was nominated against him: Alicia Keys, Ciara, Rihanna, and Robin Thicke.  Ciara and Thicke were more active in 2013, but as big of a year as Thicke had as the truer R&B artist of the two, he didn't steal Timberlake's thunder.  "It is what it is."
Favorite Band:  One Direction
All I can say is yuck… you can change the first letter of "yuck" if you wish.  This is definitely the 'popular' choice, which would be the point contextually with these awards.  Still, hard to ignore "Radioactive" or "Demons, right Imagine Dragons?  Furthermore, I guess the lines of a 'band' are truly "blurred" here categorically speaking.
Favorite Alternative Band: Fall Out Boy
I like Fall Out Boy.  That said, where is the love for Imagine Dragons? C'mon people!  Mumford & Sons and Muse are about a year late by my estimations.  Paramore did score a no. 1 album in 2013, but perhaps it wasn't 'big enough'.
Favorite Song:  "Roar", Katy Perry
"Roar" was the best choice in a stacked category that included the no-love-receiving "Radioactive" (Imagine Dragons).  Others slighted were "Just Give Me A Reason" (P!nk featuring Nate Ruess), "Mirrors" (Justin Timberlake), and "When I Was Your Man" (Bruno Mars).
Favorite Album: The 20/20 Experience, Justin Timberlake
This was, or should've been a no-brainer.  However, the category was varied, including albums from country superstar Blake Shelton (Based on a True Story) and Michael Bublé (To Be Loved).  Also included were Miley Cyrus (Bangerz) and Robin Thicke (Blurred Lines).  Personally, there were 'better' choices besides the five nominated, but whatever.
Favorite Music Video: "Roar", Katy Perry
If there were ever a time One Direction would stand a chance to receive my vote, this would be it.  "Best Song Ever" as a music video was quite entertaining.  "Wrecking Ball" (Miley Cyrus) was 'too hot to handle'.  Of the five nominees, which also included P!nk and Demi Lovato, the best choice was made.
Favorite Music Fan Following:  Lovatics, Demi Lovato
Neat category, but I'm apathetic to the nominees and the result.  Congratulations Lovatics.
Overall thoughts? Well, at least the people have a choice.  Can't block our votes!