Thompson Square Talks Album 'Just Feels Good' And Stagecoach Music Festival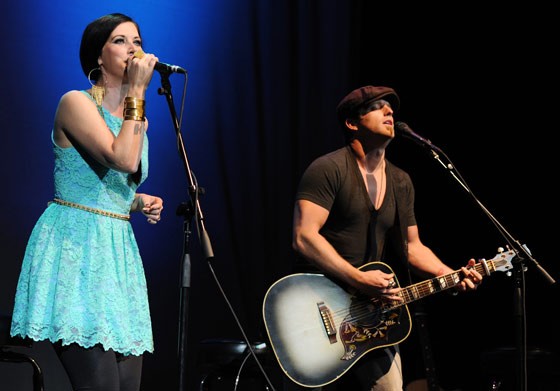 This year's Stagecoach Country Music festival was not only hot in the desert but hot up on the stage as well. While performers Lady Antebellum, Dierks Bentley and The Zac Brown Band kept the crowds buzzing, we had our own favorite on Toyota's Mane Stage: Thompson Square. The married duo, Keifer and Shawna Thompson, are the two time winners of the ACM Vocal Duo of the Year Award, have just released their second album, 'Just Feels Good' and currently have the number one hit on the Billboard Hot Country Songs chart, "If I Didn't Have You." Not only did we love their Stagecoach performance but their new album is one of our favorites this summer and is perfect for driving around with your windows down, blurting out the lyrics. We had a chance to talk to them the day before they headed out the Indio for the debut Stagecoach appearance.
Starpulse: How excited are you for Stagecoach?
Shawna: It's our first time at Stagecoach but we've heard about it.
Keifer: We are looking forward to seeing the great state of California and the sunshine.
Starpulse: Your song, "If I Didn't Have You" is blowing up the charts right now, was that surprising to you?
Shawna: I don't think anyone knows when what they wrote will be a hit but we put them out there to be number one and when it happens, it's a blessing.
Keifer: It's what we are aiming for and anytime you can get that sweet, sweet number one its great.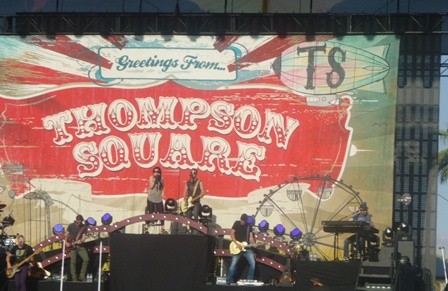 Starpulse: Your album, 'Just Feels Good' is also doing well; it is number two behind Blake Shelton, right?
Shawna: The week it came out it was, yes. But it was magic for us, we hadn't had an album out for about two and a half years, so to be able to put one out and be up there with Blake Shelton, that's pretty huge.
Starpulse: Congrats on your second ACM Vocal Duo of the year award! Were you surprised when they said your name?
Shawna: It's always a surprise to hear your name but I don't think there's any other feeling in the world quite like it. I was really scared that night when they had the camera on us that it was going to see my heart almost pounding out of my chest.
Keifer: It's a good day when you can take home an award. With all that competition out there, it makes it that much better -and we are just trying to fill up that bookcase, you know. It's always fun to see everyone and to be nominated is an awesome honor. To take one home and win it, especially two years in a row, is something that we thought would never really happen to us.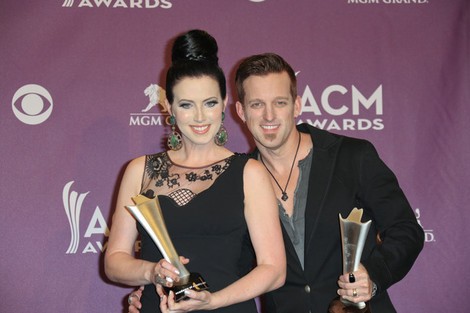 Starpulse: What is it like working together as a married couple?
Keifer: We've never been asked that before! It's a normal marriage on wheels, the difference is that we have taken out a stress because we love to do what we do for a living and we get to do it together which changes everything. We are best friends and we really are spending our whole life together. We have been very blessed to say that it just works.
Starpulse: I am sure you heard that legendary country artist George Jones died. Do you have anything to say about that?
Keifer: George was a massive part of our lives and our career. We spent so many years down here in the Honky Tonks playing and George Jones music was a common denominator every time we opened up our mouth, we just sang so many songs there. I am kind of numb right now to be honest, we just found out about a half hour ago. It's very sad and I think it will take a while for everyone to get over this one.
Starpulse: Tell me about your work with the ChildFund International.
Shawna: It's something we have been doing now for about a year and a half, we started out on our first tour and we heard about these two kids- one in Indonesia and one in Honduras. A few months ago we were able to go visit Emerson, the little boy we sponsor. That trip dour lives and it made us realize that there's so many things that we take for granted on a daily basis. We are just trying to spread the love and dedicate a song to the kids and show our trip on the video wall so we can spread the word and share what we did while we were in Honduras. Hopefully someone else can sponsor a child as well.
Make sure to pick up Thompson Square's album 'Just Feels Good' because it will do just that, make you feel good. For more information on the band and their summer tour dates, check out www.thompsonsquare.com.