Thomas Sadoski: 'The Newsroom's' Surprise Star Returns For Season 2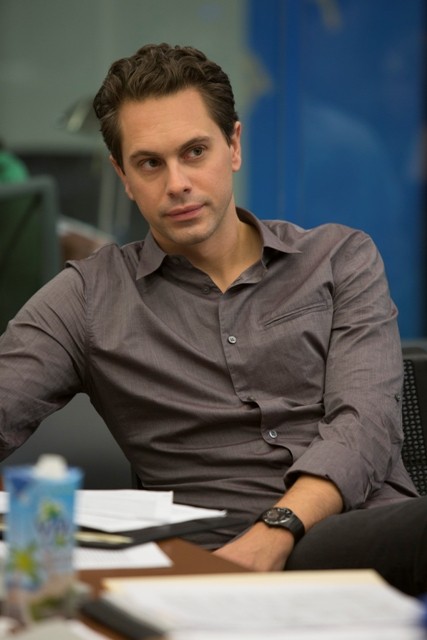 But Daniels isn't the only one reaching great heights. Sadoski gave perhaps the most revelatory performance of The Newsroom's first season, because we weren't expecting it - either from the character or the actor. When audiences first met Don, he was finding a way to duck meeting Maggie's parents and leaving News Night along with a majority of the staff. Not exactly an endearing introduction, and Don's cynical point of view made him frustrating at best. Why is he still here? we wondered. And then it became clear, as we met another Don, who was under pressure to succeed, stymied with his relationship, and sometimes the words came out wrong. He wasn't a bad guy, just a guy in a bad way. By the time he unleashed a long-overdue tirade while trapped on an airplane, we found ourselves literally cheering for him.
And who was this guy playing him, the actor from Connecticut that we'd never heard of before? Who had the chops to take Don on a complete, one hundred and eighty degree journey from loathed to liked? Who could handle that long transition in a way that it was gradual, and believable, and not making excuses for Don's past mistakes? Who could play the good, the bad and everything in between? All the other characters of The Newsroom were known quantities - you knew the white hats from the black ones - except for Don, and Sadoski made him who he is. He sold the moments where Don wasn't likeable as much as the ones where he was. He showed us everything that was going through Don's head and heart, bringing him to life as a full person, not just an ex-producer or a boyfriend or that guy who had to play the antagonist. The reason why Don Keefer is a series regular on The Newsroom is because Thomas Sadoski has made it impossible for him not to be there.
And he's not done. Sadoski promises that the growth we saw in Don will persist as we move into the show's sophomore season. "The arc that was established last year, that arc is going to continue," he revealed. "The sort of great project with my character last year was to humanize him. When we first met Don, we met Don in crisis. And then as the regular days stretched out in front of him, we started to see a more relaxed Don."
"As the season goes on, I got to do some great work with Marcia Gay Harden," he continued, referring to the actress who has a recurring guest role as Rebecca Halliday, a lawyer defending News Night's network, ACN - and is seen early on taking Will to task in a deposition. "The last few episodes saw us spending a bit of time together, which was really exciting, and I'm proud of the work we managed to get done there. There's a lot of the work this season that I'm happy with."
The hot-button topic for Newsroom fans is Don's romance with Maggie; while they're still technically together, she shared a kiss with Jim last season, and Don had a moment with Sloan Sabbith (Olivia Munn), too. It's been clear from the pilot that the show is angling to couple Jim and Maggie together, as are many viewers, so how does Sadoski weigh in on the romantic drama? Could he possibly be rooting against his own character's relationship? "As a fan, I do sort of want what's best for everybody involved," he said with a laugh, "and I'm not entirely sure what that means for Maggie and for Don. It plays itself out really early in the season. [You] won't have to wait long."
Season two is set to be another exciting and thought-provoking one, once again pulling from significant events in the recent past, including the 2012 Presidential race between Mitt Romney and President Barack Obama. Yet as we settle in for another nine episodes, it's also a good point to reflect on what's already been done. Amongst all the other things that are great about The Newsroom, we've had the pleasure of discovering a great actor in Sadoski, fearless enough to play the character people hated, talented enough to change quite a few minds on that subject, and whose years of stage experience make him particularly adept with the complex and beautiful language he gets to deliver every week. Of all the many wonderful actors who have been a part of Aaron Sorkin series over the last fifteen years, Sadoski already stands out as one of the best.
But what makes him just slightly more remarkable is that, like his character, he remains relatively unheralded - and he's content to stay that way. Here is a veteran actor who simply does his job every day to the best of his ability, who prefers that people get to know him through his work, and who shies away from praise. Sadoski doesn't believe that he's necessarily accomplished anything great. He doesn't even think there's a moment where he felt like he made it as an actor.
"I've been doing this for awhile now - I've been a professional for 17 years - and I don't know that there's ever really a moment," he reflected. "Just the other day, I had that realization of what the last few years have been like for me. I've won an Obie Award. I've done two seasons of a TV show that I'm proud to be a part of. I've been on an international tour of Shakespeare that was directed by Sam Mendes. When I put it in context, that's a pretty good four years. I realize how incredibly blessed I am to be in that position."
But, he added, "I don't want to sit in those moments too long. I want to get back to work."
With the return of The Newsroom, Sadoski should be working for a long time to come. He may never be recognized as one, and he might not need to be, but he's certainly established himself as a star.
The Newsroom premieres its second season tonight on HBO. You can also keep up with Thomas by following him on Twitter (@ThomasSadoski).
(c)2013 Brittany Frederick. Appears at Starpulse with permission. All rights reserved. No reproduction permitted. Visit my official website and follow me on Twitter at @tvbrittanyf.