Thomas Sadoski: 'The Newsroom's' Surprise Star Returns For Season 2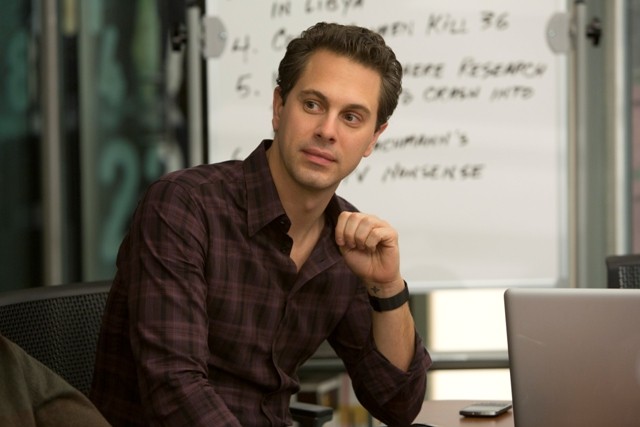 There's no shortage of known stars on HBO's The Newsroom. Jeff Daniels and Emily Mortimer are front and center, deservedly so. Sam Waterston is an acting legend. Jane Fonda has a special guest role.
And then there's Thomas Sadoski. Much like his character, news producer Don Keefer, is out of sight when there's a broadcast on the air, he's been quietly doing some of the show's best work. As he's peeled back the layers on Don to reveal more than just the guy that bailed on Will McAvoy, Sadoski has become one of the top five reasons to watch The Newsroom. He's delivering top-shelf performances, even as TV viewers are just now learning his name.
Yet he's not a newcomer. What you don't know about Sadoski is that he has more than enough experience to belong with the likes of Daniels, Mortimer, Waterston and Fonda. Though his television exposure is fairly limited - episodes of each of the Law & Order series, a guest spot on Ugly Betty and eight installments of As The World Turns - he's been a mainstay in the stage world, where he's been found for almost two decades. He's been off and on Broadway, read the words of William Shakespeare, Kenneth Lonergan and Neil LaBute, and racked up a Tony nomination, an Obie Award and a Lucille Lortel Award. If you're a TV fan, you might not know what all that means, but it all amounts to serious accomplishment.
So how, then, does a theater veteran make the transition to being a series regular on primetime television? How does he translate the years of facing a live audience into now playing in front of a half-dozen cameras? What happened to bring him there?
"This was the first one that came calling and it just also happened to be the one that was my dream job," Sadoski told BFTV on Thursday, just days before The Newsroom's season premiere. "I spent a lot time working in theater in New York, 15-plus years, doing the occasional guest star [role] on Law & Order or Ugly Betty. It wasn't for lack of trying that I wasn't ending up with TV shows.
"Aaron [Sorkin] sort of set up from the very beginning that he wanted to come in to the theater and he wanted to pull theater actors for his show. He wanted people who had a facility with the language, that he could trust to take his work seriously. When he came down and was in New York, I guess I came across his field of vision."
"For me, the transition has been aided greatly by the fact that Aaron is a playwright first and foremost," he explained, "and that I'm working with so many great theater actors who I've worked with in the past or whose work I know and trust."
Indeed, The Newsroom's cast has an impressive stage pedigree: Daniels is another Tony nominee who has also written more than a dozen plays of his own. Waterston is classically trained and still active in the stage world. John Gallagher, Jr., who plays Don's romantic rival Jim Harper, originated a role in Spring Awakening and starred in the Green Day-inspired musical American Idiot. And Don's girlfriend, Maggie Jordan, is played by Alison Pill, who shared the stage with Sadoski in two different plays, including the 2009 Broadway production of LaBute's reasons to be pretty, for which he snagged his Tony nomination. These are theater people, who also happen to be more than capable of entertaining us on TV every Sunday.
And that makes a world of difference when your chief writer is Aaron Sorkin, who began as a playwright, and whose voice is so specific and so unique that it's often been compared to stage greats like David Mamet. "Aaron writes in such a specific rhythm that you do have to work it to get it into your bones, particularly early on in the season," said Sadoski, who is more than game for the added effort. "You want to work hard at it. You want to be out there giving your absolute best. We have this cast that operates at a really high level. Everyone is working really hard to meet the standards that the writing has set for us to meet."
He's also inspired by the show's leading man. "You have Jeff doing this extraordinary work all the time," he added. "Jeff doesn't take any time off. And that sets the tone for us."