Thomas Haden Church Hired Friend To Steal His Parents' Washing Machine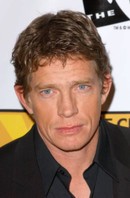 Actor Thomas Haden Church once hired a friend to steal his family's washing machine because his parents refused to part with the broken down appliance.

The Sideways star had just returned home for the holidays when he saw the rusted unit sitting outside the garage.

Frustrated by the eye sore, Church and his brother paid a pal $20 to pose as a burglar and steal the machine on Christmas Eve in a bid to get rid of the item without hurting his dad's feelings.

During an appearance on The Tonight Show With Jay Leno on Wednesday, he explained, "A number of years ago I came home at Christmas and my parents' washing machine had given up the go (broken down). So my dad had just moved the washing machine out into the driveway, where it had clearly sat for months because there was like a little rust river running out from underneath it.

"So it's sitting out there with all the Christmas lights and all the decorated bushes and what not (around it). So I called my brother and I said, 'We got to do something about this washing machine.' And he was like, 'Dad will not give it up for any amount of money.' I said, 'Let's hire somebody to steal it tonight.'

"So we we called somebody up that we knew was available for that sort of work on Christmas Eve. So, all evening... I'm like looking out the window...Then I got up Christmas morning and... the washing machine was gone. My dad walked outside and he came back in and was like, 'Son of a b**ch! Somebody stole the washing machine.'"

And Church kept the prank a secret for more than two decades before spilling the details on TV.

He added, "My parents are just finding out about this right now. My mom suspected it but right now my dad is waving his wrinkled fists at the television."