This Week's Shining & Falling Stars: Justin Bieber And Chris Brown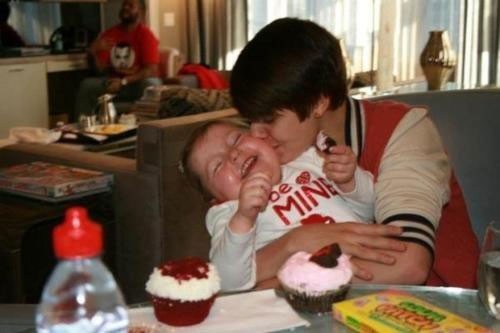 Shining Star - Justin Bieber: The Biebs can do no wrong! He doesn't get into trouble, seems super down to earth AND has a heart of gold! On the eve of Valentine's Day, the pint-sized pop star fulfilled a young cancer patient's wish.

Six year old Avalanna Routh is suffering from a rare form of brain cancer, according to the New York Daily News. And she's so in love with Biebs, nurses in the hospital where she's being treated, threw her a pretend wedding in which she married a cutout of the 17 year old singer.

A Facebook page called "Get Avalanna to Meet Justin Bieber" was created and when Biebs got wind of the page, he decided to do something special for his super fan!

Bieber flew Avalanna and her family out to NYC for some quality time together the day before Valentine's Day. Reports indicate they ate cupcakes and played board games together, we're told she even got to mess with the infamous Bieber hairdo!

After the lovely afternoon, Bieber tweeted, "that was one of the best things I have ever done. She was AWESOME. Feeling really inspired right now."

Well Biebs, we're feeling quite inspired by you right now too!