This Week's Shining & Falling Stars: Jim Carrey & Tiki Barber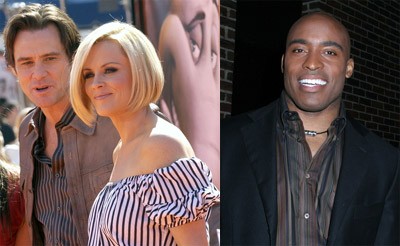 Every week Starpulse will be highlighting the highs and lows in Hollywood, particularly those who shined and those who, well, didn't.
Shining Stars - Jenny McCarthy and Jim Carrey

The couple that was Jenny McCarthy and Jim Carrey may be no more, but kudos to them for keeping their split classy!

The former lovebirds both announced their breakup via Twitter this week, with Carrey writing, "Jenny and I have just ended our (five year) relationship. I'm grateful (for) the many blessings we've shared and I wish her the very best!".

And Ms. McCarthy then followed up by tweeting, "I'm so grateful for the years Jim and I had together. I will stay committed to Jane and will always keep Jim as a leading man in my heart."

Showing some love to your newly crowned ex on Twitter, now that's a mature and sweet tweet!

Fallen Star - Tiki Barber

Oh Tiki, you make it too easy. Cheating may be bad enough, but allegedly cheating on your wife who's preggers with twins? That's bad with a capital "b"!

The former NFL star reportedly stepped out on his wife of 11 years with a 23-year-old blonde who's fresh out of college. According to the New York Post, the two-timing Tiki also scored his gal pal an internship at NBC, where he works as a commentator.

Barber's wife, Ginny, is eight-months pregnant. We're calling a major penalty on you, Tiki! 
 Story by Judy Kurtz
Starpulse contributing writer