This Week's Shining & Falling Stars: Jessica Chastain and Cuba Gooding Jr.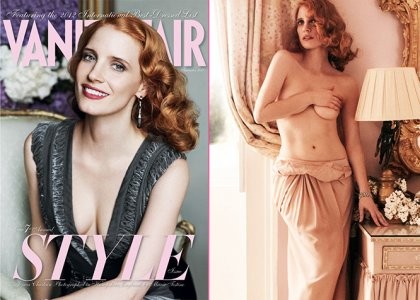 Shining Star: Jessica Chastain - If you don't know who Jessica Chastain is yet, you sure are missing out. As last year's breakout star, she snagged killer roles and Oscar nominations for her parts in "The Help" and "The Tree of Life." Now she's gearing up for her next movie "Lawless," starring opposite Tom Hardy, Gary Oldman, and Shia LaBeouf. 
Chastain was also just picked by Vanity Fair for their International Best-Dressed List, sharing the September cover with Kate Middleton. The 35-year old actress is literally showing off her goods and her sultry side, appearing half-nude for the mag.
It's a new venture for the often "shy" starlet who said in the magazine, "I don't want people to look at me. I've spent my life being embarrassed."
Well, sorry Ms. Chastain. Thanks to a soaring career, and a new, sexy photo shoot, I think more people will be looking at you now!