This Week's Music News: MTV VMA's, Lady Gaga, Rihanna And More

As the music world prepares for the MTV Video Music Awards, album release dates have been experiencing push backs or in rare cases push ups and have even gone missing (ahem,
Nas
and
Damian Marley
's Distant Relatives).
Mariah Carey
talks to
Oprah
, Whitney's less than perfect GMA performance, and
Lady Gaga
's domination of the UK charts rounds out this week's music news.
Kanye West still does not like the paparazzi
For those of you who thought that Kanye West would eventually warm up to the paparazzi and finally smile for the camera, he reminds you that he really does not like the paparazzi. While shopping with girlfriend and model Amber Rose, Kanye was caught on camera giving the paparazzi lip, strictly demanding that he be left alone to shop and roam the streets of Los Angeles in peace. The paparazzi has apparently soften up over the years, because this paparazzo was caught apologizing for doing his job; that was nice of him.
Mariah Carey does Oprah
The MC fans will be happy to know that Mariah Carey will start making television appearances again with her first stop being the Oprah Winfrey Show. She will chitchat and perform on Oprah's show on Friday, September 18th. Mariah's album Memoirs of an Imperfect Angel has a release date set for September 29th. Hopefully, Mariah can redeem herself from her last performance on hubby Nick Cannon's show "Americas Got Talent" that was rated a fail by the general public.
Lady Gaga is UK's Queen of downloads
According to BBC News, Lady Gaga's single "Poker Face" has officially become the most downloaded song on the UK Charts since the charts inception five years ago. The single has sold 779,000 in digital sales. Gaga's first UK release "Just Dance" is at the number 3 spot selling 700,000 in downloads. Lady Gaga responded to the news by stating that she is "Honored to be the songwriter and performer behind the number one and number three all-time most downloaded songs in history in the UK." What can we say; the states are not the only one's going gaga for Lady Gaga.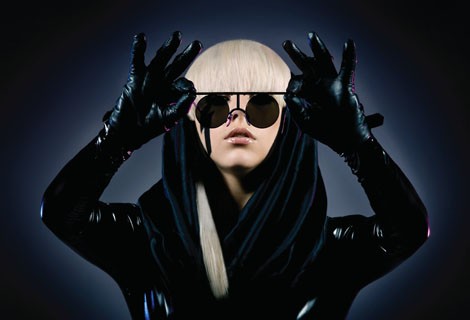 Image © Interscope
Whitney Houston bombs on Good Morning America
When it was announced earlier this year that Whitney Houston would release a new album and make her comeback, some people were excited and others were skeptical. The talk of the net was that Whitney, who was one of the queens of 90's Pop/R&B, did not embody the powerhouse voice that initially put her name in lights. August 31st came and went and her album
I Look To You
was released and received mixed reviews with the majority of the reviews being positive. Her voice was noticeably different and huskier, but the soul behind it made up for the lack of vocal strength. Fans were waiting for a live performance from Whitney to verify that she still had it; unfortunately, Whitney disappointed some hopefuls with a performance that showed that her voice had underwent some unnecessary changes. Though the singer blamed her strained voice on her performance on the Oprah Winfrey Show (which is set to air September 14th and September 15th) fans are losing hope in the voice that was once Whitney Houston. We will have to wait and see if her reason is valid when her appearance on Oprah airs in the coming week. Let's be grateful for her upbeat energy that made up for her less than perfect vocals.
Usher sets release date for new album
Amidst divorce proceedings, Usher has set the release date for his sixth studio album Monster. The LP that will feature production from
Jay-Z
,
The Neptunes
,
Ne-Yo
, and
Maroon 5
's front man
Adam Levine
has a release date set for December 8th. With his family situation turned sunny side up, we may be in for the second coming of Confessions; probably even better.
Rihanna's album coming in November?
Rumor has it, the album Rihanna has been hard at work on is near completion and is ready to hit record store shelves as soon as November of this year. According to British Amazon, a new album from the "Umbrella" singer has a tentative release date set for November 16th. Because there has not been an announcement about the new LP (and knowing the popularity of the singer, the media would have been informed) the rumor may just be that, a rumor; however, if it is not a rumor, it would be a great time for Rihanna to release a new album. She is featured on a single with Hip-Hop heavy weights Kanye West and Jay-Z that has become a fan favorite.
Jay-Z's Blueprint 3 gets bumped up
And speaking of Rihanna's mentor Jay-Z, the rapper has bumped up his album release date to today instead of the planned September 11th. Like many have been speculating, it may have something to do with the excessive album leaks Blueprint 3 has been experiencing from the close of August. Also, albums are typically released on Tuesdays and Jay-Z was planning to release his album on a Friday. He will still perform live at Madison Square Garden on September 11th to benefit the New York Police and Fire Widows and Children Benefit Fund. You can watch it live via Fuse TV at 9PM. The rapper is set to take to the MTV Video Music Awards stage to perform and will bring Alicia Keys along for the ride as they will be performing "Empire State of Mind"; a dedication song to New York that features the R&B songbird which also appears on Jay's album Blueprint 3. The VMA's are scheduled to air live Sunday, September 13th at 9PM EST only on MTV.
Story by
Samantha Greaves
Starpulse contributing writer