This Summer, Take A Pop Culture Road Trip!

During these hot summer months, nothing is quite as fun as jumping in your car, winding the windows down, turning the radio up, and hitting the blacktop in search of new adventures. Who's up for a road trip?
Now, before you fill up your tank, we should tell you that we're not talking about any old road trip. We're not talking about heading for the beach or the Grand Canyon. We're not talking about following the same itinerary that your parents did when you were just a kid sitting in the back of the family station wagon with no say in the matter.
Sure, the typical tourist spots are great, and they're popular for a reason, but why not try something a little more off the beaten path? Instead of taking AAA's advice, why not let pop culture be your guide?
We've mapped out a long route around the United States based on some popular movies (and one famous song). If this trip doesn't quite get your motor running, we've included a bunch of other interesting sites that you can pick from to create your own journey!
Basic Route: From Running Bases to Drag Races
Start out in the corn fields of IOWA. Dyersville, to be exact, where you'll find the ball park from "
Field of Dreams
" at the Lansing family farm. Make sure you take your bat, ball, and glove - playing is encouraged, and admission is free!
Next, head to Mansfield, OHIO, to see the Ohio State Reformatory, which served as Maine's fictional Shawshank State Prison in "
The Shawshank Redemption
." Closed in 1990, the prison is now a popular tourist attraction, and not just for movie buffs. Many believe that it's haunted, and the ghost hunts scheduled for the rest of the year are already sold out. If wandering around an old jail is too depressing, head out to nearby Malabar Farm State Park in Lucas (not Buxton) to look for the hayfield that Red visited. You know the one - it has a long, rock wall and an oak tree at the north end. Keep an eye out for a piece of black, volcanic glass! (Bonus for old movie fans: Bogie and Bacall got hitched at Malabar Farm.) To visit all Shawshank filming locations in Mansfield, go to
www.shawshanktrail.com
for more details."
Then it's on to VIRGINIA, which subbed for New York's Catskill Mountain region in "
Dirty Dancing
." In Pembroke, you'll find Mountain Lake Resort, otherwise known in the film as Kellerman's. If you're hoping to have the time of your life, you can stay for one of the resort's "Dirty Dancing Weekends," July 17-19 or August 28-30. Rates start at $230/night. Ridiculously hunky dance partners are not included.
After the big dance number, shoot down to Davie, FLORIDA, to visit Rolling Hills Golf and Tennis Club - the real Bushwood Country Club from "
Caddyshack
." Of course, if you're not a member, you probably won't be able to play, unless you have Al Czervik's money. You could also drive about 4 miles north to Plantation Country Club in Plantation, FL, which is where the movie's pool scenes were filmed. Don't forget to pick up a Baby Ruth at a mini-mart along the way.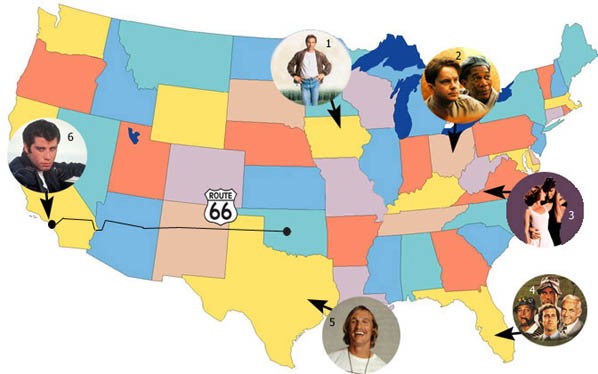 Enough of that stuffy scene - you need to go do some l-i-v-i-n, so cruise over to Austin, TEXAS, for a party at the moon tower! There are 17 moon towers remaining in Austin, all now historical landmarks, but it's been reported that the one used in "
Dazed and Confused
" can be found in Zilker Park.
Since you have a while to go before hitting CALIFORNIA, why not get some kicks on Route 66? The famous road begins in Chicago, but you can pick it up by driving up to Oklahoma City. Since it was decommissioned as a Federal highway more than 20 years ago and no longer appears on official road maps, you can find turn-by-turn directions at
http://www.historic66.com/description/
, or, if you'd rather not waste all of your printer toner, buy the 8-map set from Amazon.com for about $12.
Once you reach LOS ANGELES, you'll want to check out the Los Angeles River, which is a popular location for movies and music videos. Possibly the most recognizable section lies between the 1st and 4th Street Bridges - the strip known from "
Grease
" as Thunder Road. Just remember, it takes more than a coat of paint to make it there.
Choose Your Own Adventure
Don't have enough time to drive cross-country? All of these sites just aren't your bag? Well, create your own trek by mixing and matching some of these other locations.

-
Cheers
(Boston, MA) - The bar formerly known as the Bull & Finch changed its name to Cheers Boston so as not to confuse tourists. While only the exterior of the bar was used on TV's "Cheers," a second location was opened in Faneuil Hall in 2001, which features a replica of the fictional bar's interior.
-
Tom's Diner
(New York, NY) - It's the diner from the
Suzanne Vega
song of the same name, but it's most famous for serving as the exterior of Monk's Café on "
Seinfeld
." You might just want to get a picture outside and find another spot to eat though, because I've heard the food is terrible.
-
Poor Richard's Pub
(Scranton, PA) - This popular neighborhood bar (located inside South Side Bowl) is a favorite hangout of Dunder-Mifflin employees from "
The Office
."
-
Carver Café
(Damascus, OR) - This small-town establishment is where "
Twilight
"'s Bella can often be found grabbing a bite to eat with her Dad and chatting up the locals.

-
Kennywood Park
(Pittsburgh, PA) - Known as one of "America's Finest Traditional Amusement Parks," this 111-year-old park serves as the setting for the comedy, "
Adventureland
." Though the park is a bit old-fashioned by today's standards, it's much nicer than the movie depicts, and there are still some serious thrills to be found. The Thunderbolt, still considered one of the top coasters in the country, is worth the price of admission alone. (Trust me; I grew up in the 'Burgh!)
-
Golfland-Sunsplash
(Mesa, AZ) - If you were one of Europe's greatest leaders, and you were stranded in San Dimas for one day, where would you go? Waterloo, right? Unfortunately, you'd be disappointed, because Napoleon's favorite water park from "
Bill and Ted's Excellent Adventure
" isn't actually in San Dimas, CA - it's about a six-hour drive east.
-
Six Flags Magic Mountain
(Valencia, CA) - Many TV shows have filmed episodes at this popular park, and it was featured in the aptly named '70s thriller, "Rollercoaster." However, it may be best known as Walley World, the final destination on the Griswolds' cross-country "
Vacation
."

-
Amityville Horror
house (NY and NJ) - Although the real house is located at 112 Ocean Avenue in Amityville, NY, the original movie was filmed at 18 Brooks Road in Toms River, NJ. Neither home may be recognizable to fans, since the movie house has since been painted and slightly remodeled (probably to stave off stalkers and amateur filmmakers).
-
Camp No-Be-Bo-Sco
(Blairstown, NJ) - Better known to horror film buffs as Camp Crystal Lake in the original "
Friday the 13th
" (something that the camp doesn't promote on its website), it is now property of the NNJC Boy Scouts of America, and is not open to the public. If you plan to be a scout leader there, never go anywhere by yourself and never have sex. Ever.
-
The Overlook Hotel
(CO and OR) - If you're a fan of Stanley Kubrick's film adaptation of "
The Shining
," you'll want to swing by the Timberline Lodge, on the south face of Mount Hood in Oregon, to see the famous exterior. If you're more of a book purist, head to Estes Park, CO and spend a night at The Stanley Hotel, Stephen King's inspiration for the Overlook and where much of the 1997 TV mini-series was filmed. Many visitors have claimed that The Stanley is haunted, but the elevators are blood-free.

-
Kalama High School
(Kalama, WA) and View Point Inn (Corbett, OR) - In "Twilight," these two buildings served as Forks High School and the location of the Casino Monte Carlo prom, respectively.
-
East High School
(Salt Lake City, UT) - Although the "
High School Musical
" characters live in New Mexico, the real East High can be found in Utah.
-
Venice High School
(Los Angeles, CA) - This school can be seen in many movies, including "
Pretty in Pink
" and "
Heathers
," as well as several music videos, most notably
Britney Spears
' "…Baby One More Time." Still, it's probably best known as Rydell High from "Grease."
Wherever you go this summer, have fun out there. And send me a postcard!
"The Pop Eye @ Starpulse" is a column written by native Pittsburgher and current New Yorker,
Becky Broderick
. You may contact Becky directly at beckeyeam@gmail.com, or check out her other ramblings on
The Pop Eye
.