'This Is The End' Premiere Pics: Emma Watson's Cute Bob & Bustier, Carmen Electra & More!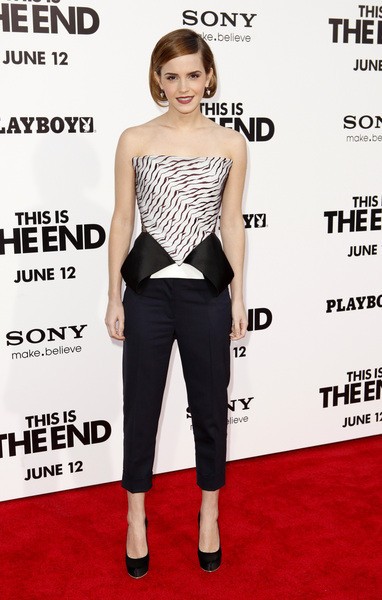 The "This Is The End" Los Angeles premiere kicked off in Westwood, Calif., on Monday night with the film's stars and other celebs walking the red carpet to promote the comedy.
Emma Watson dazzled fans in a black and white zigzag Roland Mouret peplum bustier and black capris pants. She swept her hair back into a puffy bob.
In the film, six friends are trapped in a house after a series of strange and catastrophic events devastate Los Angeles. Seth Rogen, Jay Baruchel, Jonah Hill, James Franco, Watson and other stars play themselves in the movie. It opens in theaters June 12.
Watson also stars in the upcoming film "Noah" opposite Russell Crowe about the Biblical Noah, who has visions of an apocalyptic rainstorm and prepares for an impending flood.
Check out more photos of Watson, Carmen Electra, and other stars from the premiere...