'This Is Next' Compilation Series To Highlight The Best Music From Independent Artists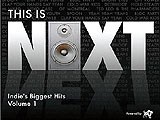 This Is NEXT
is a new compilation series showcasing today's best independent artists. Based on the model of the popular
NOW That's What I Call Music
series and inspired by the success of 2004's
Garden State
soundtrack (which largely featured independent artists and sold over 1 million units),
This Is NEXT
will be curated biannually by a different label in the ADA stable.
ADA president Andy Allen sums the compilation's relevance best by saying, "Indie music has entered the mainstream. Hollywood and Madison Avenue are increasingly using tracks from indie artists in their projects, and you hear indie artists regularly in TV shows.
This is NEXT
features the best music from the indie community." MTV2 is set to provide valuable marketing and promotional expertise on the series, including special programming and exposure for the series across all their many platforms.
The first edition will be released by VICE Records and features some of the most critically acclaimed artists in music today, including tracks from recent Top 10 album debuts by The Shins, Bright Eyes, and Spoon, plus celebrated tracks by Bloc Party, Sonic Youth, Yeah Yeah Yeahs, Cat Power, Neko Case, and more. The album also represents an historic coming together of some of the best independent labels ever - Matador, Sub Pop, Merge, Touch & Go, Saddle Creek, Kill Rock Stars and more - all on the same album.
Here's the tracklisting:
Bloc Party
- The Prayer
Yeah Yeah Yeahs
- Cheated Hearts
Sonic Youth
- Do You Believe In Rapture?
The Shins
- Phantom Limb
Spoon
- The Underdog
Bright Eyes
- Four Winds
Cat Power
- Lived In Bars
Neko Case
- Hold On, Hold On
Of Montreal
- Heimdalsgate Like A Promethean Curse
Deerhoof
- The Perfect Me
The Hold Steady
- Chips Ahoy!
Cold War Kids
- Hang Me Up To Dry
Ted Leo & The Pharmacists - Colleen
M. Ward
- Chinese Translation
Clap Your Hands Say Yeah
- Satan Said Dance
-
Enter here to win one of five copies of 'This Is NEXT!