Third Season of 'The 4400' Kicks Off June 11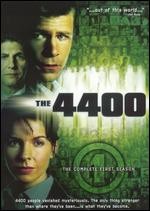 The 4400
, the critically acclaimed series that chronicles the reappearance of 4400 people previously reported missing or dead, returns for a third season on Sunday, June 11. The third season sparks a new beginning for the 4400 people who, over a span of years, mysteriously disappeared - only to be returned to Earth all together in a ball of light.
Though the returnees had not aged physically, many of them reappeared with dramatic abilities ranging from enhanced reflexes to precognition. NTAC (National Threat Assessment Command) is the government agency responsible for keeping track of the returnees and investigating all things related to the 4400.
The premiere picks up mere seconds after we last saw a year-old baby, Isabelle, become a beautiful twenty-year old woman. Her father, Richard, is forced to deal with his daughter's sudden transformation – and an even more surprising change in her wife, Lily. Meanwhile, Tom and Diana pursue a radical 4400 organization called the Nova Group that has launched attacks against Dennis Ryland and the other bureaucrats that they perceive as threats.
The show's third season premieres as a two-hour special from 9:00-11:00 p.m. ET/PT on USA and then will air as weekly one-hour episodes at 9:00pm ET/PT starting Sunday, June 18.