Third 'Gear': Inside Season 3.5 of History's 'Top Gear'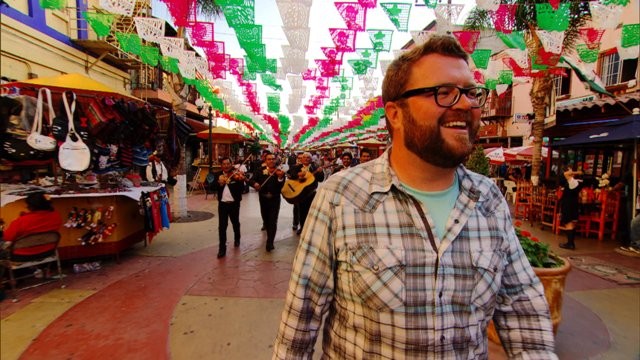 America's wildest show on wheels is back. History's Top Gear is returning to your screens tonight for ten more episodes of car-centric adventure fueled by human craziness. Hosts Adam Ferrara, Rutledge Wood and Tanner Foust are still doing everything they can (and some things they shouldn't) behind the wheel, including revisiting their college cars, taking on RVs, and facing the apocalypse. Yes, the apocalypse.
BFTV recently joined Adam, Rutledge and Tanner on location to get the scoop on some of the mayhem coming your way. The fun starts tonight with 'College Cars,' in which the guys get back behind the wheel of their early rides and head for what's supposed to be spring break. "We went to Mexico," Adam said, "with the cars we had in college." If the pictures in this article are any indication, things got very interesting.
From then on, the action never really stops, with the guys taking on another British Top Gear challenge, this one adapted for America's favorite motorsport. "We had to make RVs and we took them to a NASCAR race," revealed Adam. Said Tanner: "It's an interesting scene. We camped out in the infield of Charlotte [Motor Speedway]."
"We had some NASCAR drivers in the show," added Rutledge, "and you can't give a professional driver any sort of vehicle and ask them to take it easy." But the biggest offender in that forthcoming episode might have been Adam, who let slip that "I almost killed a camera guy with a tree."
He's not the only one risking potential bodily harm yet again this season. "There's something coming up this season that is the closest to Fear Factor I've ever been a part of, in a terrifying way," admitted Rutledge, who's already been sent to the hospital once (in season two), "which will probably be funny to other people."
"There's a rodent wrangler involved," added Tanner.
Also coming up in the second half of season three is something long overdue: after a Tanner-centric installment and a Rutledge-themed show in past cycles, Adam finally gets his own episode. "I teach the guys football and get to drive one of my dream cars," he teased.
The guys will build a vehicle meant to survive in a post-apocalyptic world, too - a behemoth that must be seen to be believed, armed to the teeth and with plenty of property destruction that follows in its wake.
And if that's still not enough for you, they'll head to Sin City. "We were in Vegas because we decided that we wanted to learn about taxi drivers, and we thought we should make our own [taxis]," revealed Rutledge. "That was really fun because we got to go drive around Vegas and pick up random people. we also got to ride with cabbies and learn.

"We also had to ride in everyone else's taxi," he continued, although that part of the episode didn't go so well. "Tanner and I rode in the back of Adam's taxi, and there was a physical altercation in the back," he added. "I left bleeding."
But Tanner got his in the end: "I get a call for some exotic dancers," he said. "Male exotic dancers."
For those missing the more traditional elements of the show, Rutledge explained that while they haven't had as many in-studio segments as challenges this season, he and the guys haven't forgotten about that part of Top Gear. "We kind of didn't have time for the studio," he said. "We love to do the studio, we all love to do the Stig laps. For me, I love the studio the most because we get to really connect with the fans. It's the best time to do that."
There are a few challenges from TGUS's already impressive history that the guys would like a second shot at. Adam wants a do-over on "The hill climb in Death Valley," he said. "I realized I forgot to put the Bronco in four-wheel drive and that pissed me off."
"An episode that has yet to air that I'd like another shot at [is] the 'Cheap Speed' episode where we tried to go 150 miles per hour for very little money," said Rutledge. "There are a couple of things I could have done differently that might have had an impact.  For one, I should have tested the nitrous kit beforehand." Sounds ominous...