Third 'Gear': Inside Season 3.5 of History's 'Top Gear'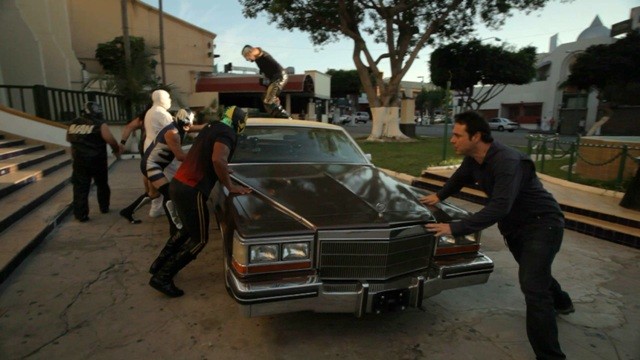 The escapades that happen are only half of what's made Top Gear such a joy to watch. The chemistry between the hosting trio has continued to improve with each season, and both Adam and Rutledge pointed to the same episode as the moment when things started to click.
"Everything really seemed to come together with cast, crew [and] production throughout the Alaska episode ["America's Toughest Trucks" from season one]," said Rutledge. "The insanity of that journey, and it really being the first extended journey we had done, seemed to shed some light on who the three of us really were."
Agreed Adam, "It was the first time we went on a journey and camped out. We laughed and got on each other's nerves."
Three seasons in, one of the things all the hosts can agree upon is that spending this much time in each other's company has taught them a thing or two. "I learned Rut has limited peripheral vision and have been exploiting that for my amusement between takes," said Adam. "I learned that for all of Tanner's competitive instincts to finish first, he is always the last one down for call time in the morning."
Added Rutledge, "I've learned both Adam and Tanner are crazy in different ways. Adam is crazy behind the wheel of any vehicle no matter the circumstance. That's why I don't really like riding with him, even in a rental. He truly earns the name 'The Wrecker.' Tanner is the opposite side of crazy. He does things with a car that no one would ever think possible."
Each of the hosts lead pretty exciting lives, whether it's Tanner on the racetrack, Rutledge working with the folks at SPEED Channel, or Adam taping a multi-episode arc on Showtime's original series Nurse Jackie. So if they could be each other for a day, who would the guys want to swap places with?
"I would have switched places with Tanner in the farming episode [season three's "The Tractor Challenge"] because I wanted to drive the [Lamborghini] Aventador," said Adam, who added "I would switch places with Rut at a NASCAR race. He's like the mayor - everybody knows him and I wouldn't have to wait on any lines."
Meanwhile, Rutledge would be "Adam, so that I knew how to string curse words together the way a true New Yorker does." Clearly, these three gentlemen have plenty of love for one another - which, like true friends, includes never being afraid to make fun of each other.
That's what lies at the heart of History's Top Gear: things may not always go right, and sometimes they might explode, crash or catch on fire, but at the end of the day this show is about three guys and their boundless love of cars - something that they share with all of us at home every Tuesday.
In addition to new episodes of the show, there's also a special opportunity coming up for Southern California-based TG fans. Adam is bringing his stand-up comedy to San Diego's House of Blues on February 20 in order to benefit the 9/11 Patch Project, which raises funds for a variety of September 11-related charities. Here's a new promo spot for the one-night-only event.
For more information, including how to purchase tickets and more details on the 9/11 Patch Project, you can also click here.
Top Gear resumes its third season tonight at 9 PM ET/PT on History. Fans can join myself and co-host Adam Ferrara (@adamferrara) for a live-tweet during the airing of the episode.
For more from Brittany Frederick, visit my official website and follow me on Twitter (@tvbrittanyf).
(c)2013 Brittany Frederick. Appears at Starpulse with permission. All rights reserved. No reproduction permitted.