Third And Final Trailer For Disney's 'The Lone Ranger' Promises Lots Of Action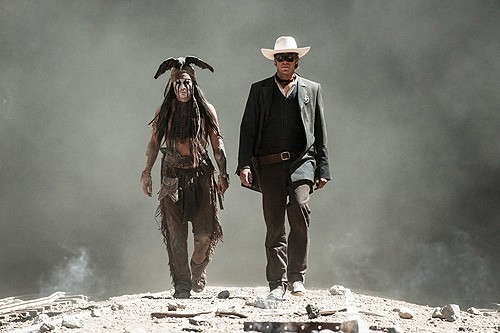 Disney's third and final trailer for this July's surefire blockbuster The Lone Ranger was released on Thursday and it looks awesome!

Johnny Depp, who stars in the film as Tonto, and director Gore Verbinski were on hand at this year's CinemaCon in Las Vegas, where movie theater owners gather to get the latest info on upcoming films and technology, to share 20 minutes of footage of the film with cinema bosses. Unfortunately we'll all have to wait until July 3 to see any of that footage.
 
Based on the characters that were introduced by Detroit's WXYZ radio in 1933, the story begins with the ambush of six Texas Rangers by a posse of outlaws led by a vile criminal named Butch Cavendish (William Fichtner).

One ranger, John Reid (Armie Hammer), survives the battle and is nursed back to health by a Native American spiritualist named Tonto (actually he's kinda brought back to life).

Reid takes the guise of the Lone Ranger, donning a black mask and white cowboy hat, and vows to rid the world of criminals like Cavendish and bring justice to the Wild West.

Jerry Bruckheimer produced the film, which also stars Tom Wilkinson, Helena Bonham Carter, , Ruth Wilson and Barry Pepper. The film opens in theaters on July 3.
Check out the trailer below...