'Think Like A Man Too' Philly Red Carpet Premiere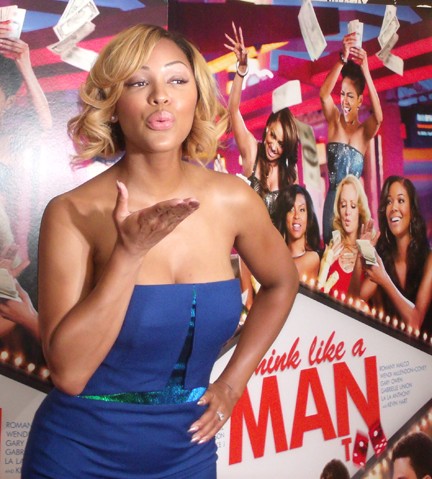 Meagan Good, Michael Ealy and Simon 'One Punch' Carr hit the red carpet at Philadelphia's Prince Music Theater this past Thursday night, June 12th, to kick off the Philly screening for 'Think Like a Man, Too.' I loved the original 'Think Like a Man' (2012) for its humour, intelligence and writing. So, of course, I asked my two favorite stars about my two favorite items in the initial film - its three-dimensional writing and its amazing actor chemistry.



Despite having two male writers and one male director using a self-help guide written by a man, the original film avoided  reducing the female characters to stereotypes of the shrill business woman (Taraji P. Henson), the good time girl (Meagan Good), the single mom (Regina Hall), or the long-long-long term relationship woman (Gabrielle Union). I asked Meagan Good about the male writers ability to portray the female characters so realistically. "I think it's a testament to the writing. We have incredible writers that didn't make the characters one-dimensional on the page and then Tim he really gets it. He let us explore as actors. Then we have an incredible producer, Will Packer. This time, the women get to have a little bit more fun than the guys do, so we're excited about that."

Meagan Good is tiny, tiny, tiny yet full of star power with her gold tinted locks and tiny gold heels. Despite the huge manga eyelashes, she remained genuine, connecting with each of the red carpet writers/bloggers/interviewers. She looked at each of us, listened to our questions and thought about the response before shooting it back. Honestly, I only do interviews when I'm interested in the project/actors as some actors lean towards patented sound bits; but, Meagan remained genuine - bowing to each writer at the end of the interview and thinking over each question before responding. She not only won over the interviewers individually, but the photo line as well, when they gallantly stopped shooting - enabling her to adjust her dress while Michael Ealy humorously covered her with his jacket.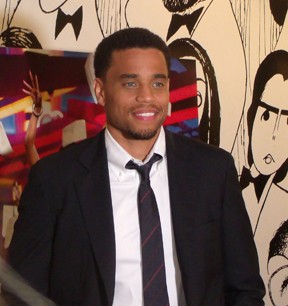 Of course, Michael Ealy remained the usual gallant, continuing the charm he brought to Philadelphia for the original red carpet 'Think Like a Man' premiere. Michael Ealy's chemistry with Taraji P. Henson in the original film struck me as authentic and original. While most actors can show attraction, the utter comfort Ealy and Henson showed with each other the first time out the gate made me eager for more. I queried Ealy about how much further he could take his on-screen chemistry with Taraji P. Henson compared with the first film. "Dominick and Lauren are in this second phase of their relationship. The sequel is more about us figuring out how to stay in the relationship. At the end of the day, we've got to make sure that love supersedes everything else. We came right back. Our first scene is a makeout scene. We do that well, I guess. (laughs)"  I couldn't help contrasting Michael's initial visit to Philadelphia for the original film with his current visit. In the previous visit, he and Steve Harvey premiered the film at one of Philly's independent theatres where Steve called out the red carpet's size while Michael dressed casually in a warm brown sweater. But, this year, the stars arrived dressed formally ready for their PR rounds.

Philly native and former boxer, Simon 'One Punch' Carr, talked about his cameo with Floyd Mayweather Jr and Kevin Hart, admitting he "can't talk too much about the details" but hinting "It's a boxing part." He also discussed a program that means a lot to him for "Putting Down the Guns and Picking Up the Gloves" that he helps out with between Philly and LA. You can check him out at @onepunchcarr on Instagram and Twitter.

Philly definitely loved its M & M by giving both Michael and Meagan a warm welcome as they introduced the film. Although Steve received slightly more love the last go round, this time, the Philly audience made up for it in the accolades it threw Michael Ealy's way. 'Think Like a Man Too' hits theaters nationwide on Friday, June 20.