They Might Be Giants Release 'The Else'

Full of musical surprises, lyrical twists and sonic turns,
The Else
is a return to form for alternative rock legends
They Might Be Giants
, who started their illustrious career twenty-five years ago.
While
The Else
finally captures their notoriously talented live band in all their barnstorming glory, the complete effort is an electrifying mix of homebrewed sonic madness and studio mastery. Over a year and a half in the making and recorded on both coasts, the album was created in collaboration with LA producers the
Dust Brothers
(
Beck
,
Beastie Boys
,
Hanson
) and NYC engineer/producer Patrick Dillett (
Mary J. Blige
,
David Byrne
,
Soul Coughing
).
They Might Be Giants were hardly relaxing by the pool while the producers polished the mix-during their retreat into the studio. They have soldiered ahead with the creation of new podcasts - they're free, issued monthly and have turned into an underground national favorite, routinely popping in the top ten on iTunes' music podcast chart with hundreds of thousands of subscribers. The band is proud to provide a good home to a Grammy Award and a platinum record (1990's
Flood
), while at the same time continuing their musical contributions to
The Daily Show
with
Jon Stewart
and beloved website
HomestarRunner.com
.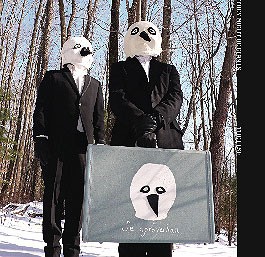 Despite the changes in collaborators and locations,
The Else
's 13 tracks form a single, cohesive musical experience. The album will be released July 10th, 2007 on the band's own imprint, Idlewild, through Zoë/Universal. Enjoy it… or else.
Listen to "Take Out The Trash":
Quicktime
|
Windows
Check out TMBG's video for "With The Dark"
(Streaming audio and/or video links may expire without notice)