There's 'A Million Ways To Die In The West' In The Hilarious Redband Trailer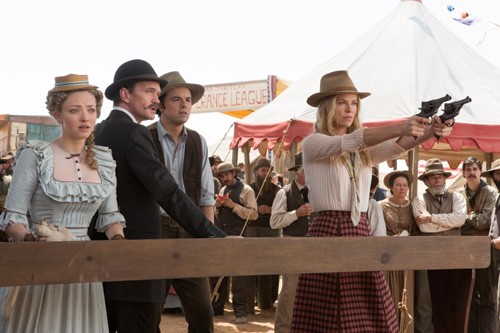 There's A Million Ways to die in the West isn't just the title of Seth MacFarlane's upcoming comedy, it's a pretty accurate description of the film itself.
In the premiere red-band (R-rated) trailer, Seth MacFarlane's character Albert loathes the fact that everything is deadly in Arizona in the late 1800s. However, Albert is smitten with a newcomer played by Charlize Theron who also happens to have the skills to teach him how to take on a deadly outlaw (Liam Neeson). That doesn't mean Albert will learn shooting any faster, as he has difficulty taking out bottles at point-blank range.
Amanda Seyfried stars as Albert's ex, who has moved on with a rich man played by Neil Patrick Harris. Giovanni Ribisi plays Albert's friend Edward, who has foolishly fallen for a prostitute played by Sarah Sivlerman.
Check out the red-band trailer blow - warning, adult language and violence.