There Are Changes Ahead For '90210,' Star Michael Steger Explains

Last year the premiere episode marking the return of
90210
via a spin-off show set record ratings for the CW network. After that, viewers significantly dropped off only to increase again whenever original
Beverly Hills 90210
stars were making special guest appearances.
The new "90210" strayed from the original's format in that the characters were all over the place. In addition, since the spin-off came out more than a decade after the wildly popular original, there wasn't much of a crossover audience.
Some television viewers refused to watch the new "90210" out of devotion to the original series; while others tuned in and found that it just wasn't satisfying. Yet diehard "90210" fans that stuck through and tuned in for the entire season and absolutely fell in love with it. These diehard fans saw through the less-than-stellar storylines and found characters that they could relate to, or at the very least characters that they enjoyed watching even if it were only for the eye candy.
Thankfully, changes have been taking place in the beloved zip code that should make viewers flock back for the second season.
Behind the scenes, there's good news with the return of "90210" in the form of a new executive producer who has been revamping "90210" and much of the behind-the-scene staff. This should reflect greatly in the storylines and general look of the show.
The second season of "90210" will reveal new characters to the zip code, minus some first-season characters who have been released from their contracts (
read an interview with Dustin Milligan, who played Ethan, here
).
Starpulse recently connected with Michael Steger, who returns as beau hunk Navid Shirazi, to discuss some of the happenings of "90210's" second season.
"It's a whole different show this season. We have a new team. All new writers, new EP (executive producer) and it has an all new look and feel to it." Steger said.
When asked about what was happening between Navid and his love interest Adrianna, Steger said, "They're still in a great relationship. Things are looking great up until Teddy Montgomery, who's the son of a famous actor [and] a pro athlete, shows up. And he has what I don't necessarily have and so I see that as a real threat. Navid's mission in the beginning is Operation Teddy Montgomery, and so he's doing some things to kind of push him to the side. Adrianna gets upset - that's an ex-boyfriend which is now my rival so I'm going to try my best but it's not necessarily working. You get to see the ridiculous, threatening circumstances that Navid puts her through while trying to hold on to Adrianna."
Steger added, "Last season we got to see the relationship and many different colors of the relationship. This season you get to see his jealous side. Some of his weaknesses come out and you see him really trying to discover who he really is and he's somewhat lost in mischief."
For those who have been wondering all summer long who it was that Annie hit with her car in a hit-and-run accident, Steger explained, "You'll know by episode two. It's very interesting, very interesting."
Lastly, for those curious to see some of the original "90210" cast members coming back, be on the lookout for
Jennie Garth
to be making a stellar return.
The upcoming season looks promising and much improved over last season and with a revamped behind-the-scenesstaff, we'll definitely want to give it another try. And for those who were already in love with "90210," your treasured series has gotten better!
The season premiere of "90210" is Tuesday, September 8th on the CW.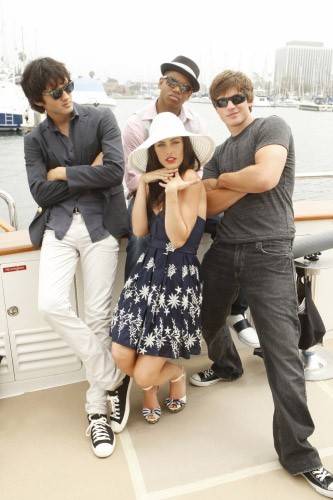 Image © Michael Desmond/THE CW ©2009 The CW Network. All Rights Reserved.
Story by
Eric Stromsvold
Starpulse contributing writer