Theatrics Enhance Adam's Performance On 'Idol,' Lil Rounds Probably Out

Random Thoughts While Waiting for
American Idol
to Start:
-No weird WWE-style judge introduction tonight. Finally!
-Hey, it's the bald guy from "
Fringe
"! Here's a guarantee: 95% of the audience had no idea why they showed that guy, kind of like the 99% who didn't understand why he was on the sidelines during NFL playoff games.
-Do people actually get embarrassed by their baby photos? Isn't that the biggest faux-humiliation moment ever? I mean, you're a baby! The fashions were different and your parents dressed you to look like their version of cute. How insecure does somebody have to be to be embarrassed by that? Baby picture embarrassment is one of those automatic reactions people whip out because they fell they're supposed to.
-Then again, you could be holding a toy gun and look like you were in a futuristic version of the nutcracker. Though I kind of believe
Simon Cowell
when he says that's not him.
And now, on with the show!
Danny Gokey Sang "Stand by Me" by Mickey Gilley
Randy said
: Made me love it even though I didn't love the arrangement.
Kara said
: Did your own thing and you did it well.
Paula said
: Everybody who follows you is going to have to run as fast as they can to catch up.
Simon said
: Beginning good, middle lazy, end terrific. Overall, great.
The Verdict
:
Well it's good to know cover versions count in the "year of your birth" category. Let's see somebody whip out the Manheim Steamroller version of "Ode to Joy".
This performance gives me the impression the impression that Danny is going to recording a massive selling Christmas record. The warmth in his voice is just made for the fireside on a snowy night. I'm guessing the blame for this awful arrangement should go to whoever covered the Ben E. King classic, so it's hard to get on Danny for that, though it is a bit distracting. All in all, another solid performance for Danny who continues to flash some unreal pipes. Not spectacular, a bit safe, but solid.
Grade: B
Prediction
: He's shaky because he hit leadoff tonight (that's danger for anybody), but with such glowing praise from the judges he isn't in any real danger.
Kris Allen Sang "All She Wants to Do is Dance" by Don Henley
Randy said
: Arrangement was self-indulgent. Lost you in the band. (Randy just might be the best judge this year)
Kara said
: Felt like Jazz-Funk homework.
Paula said
: You have to be one of the most likeable contestants we've ever had. (When you can't think of anything nice to say. . .)
Simon said
: Indulgent, boring, forgettable. Came over as a guitarist who wanted to sing, rather than a singer
The Verdict
: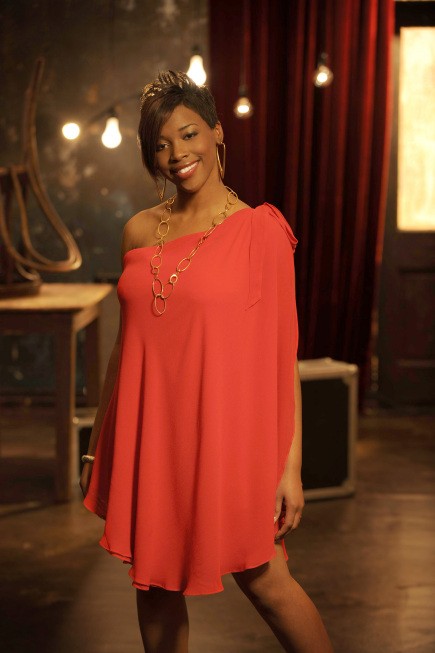 About time they put some
Don Henley
on Idol!
This is another one straight out of the Kris Allen-as-Jason Mraz playbook. The arrangement is a bit clumsy, with some late-Huey Lewis brass doing nothing but distracting. Kris actually doesn't seem like he's into the song at all, lazy vocals and an almost invisible performance. Giraud did much better rocking the mosh pit.
This was a classic bad song choice - not a singer's song at all and Kris didn't really do anything with it. Easily his worst so far.
Grade: C-
Prediction
: He seems vulnerable after getting his world rocked by the judges so early in the evening, but it was hard to hear the criticisms over all those screams.
Lil Rounds Sang "What's Love Got to Do with It?" by Tina Turner
Randy said
: It's almost like you're not listening to us.
Kara said
: You have to transition from singer to artist. That's where you're struggling.
Paula said
: You're a brilliant vocalist but that will only take you so far.
Simon said
: Third-rate Tina Turner. Ghastly copycat performance. You've got to start becoming original.
The Verdict
:
Lil Rounds always seems to struggle with the smaller and restrained portions of songs, and that's again clear at the opening of this song as she stumbles through the opening verse and initial chorus waiting to let her pipes stretch out on the bridge. She can really hit those big notes, but shouldn't she be able to do more than just belt?
Also, when you're less than stellar on a perfect song choice, you deserve to be judged more harshly. At this point she's only doing karaoke, and this wasn't even great karaoke on a song perfect for her voice.
Grade: C-
Prediction
: Wow. She got obliterated by the judges. Could the early favorite be on her way out? She hasn't been in the bottom three yet so she may squeak by, but things aren't looking too good.
Anoop Desai Sang "True Colors" by Cyndi Lauper
Randy said
: A very nice vocal.
Kara said
: You controlled the song, didn't let it control you.
Paula said
: Flawless choice of song, magical vocal.
Simon said
: You're like a singing Yo-Yo, one minute you're down, then you're up. This week was very good.
The Verdict
:
Anoop's voice has always been better-suited to ballads no matter what the judges say. This is no exception with what begins as an excellent stripped down version of a truly underrated song. He adds a bit of a dance rhythm in the second half and lets his voice get sunnier along with the arrangement. A very nice performance with a quality vocal, good arrangement and subdued yet commanding performance from Noop Dawg.
Grade: B
Prediction
: Anoop did well to apologize for last week's tantrum, battling the judges never wins votes. He'll stick around for another week on the strength of that plus a solid and well-liked performance.
Scott MacIntyre Sang "The Search Is Over" by Survivor
Randy said
: You didn't show that you're a star.
Kara said
: Took on a very difficult song. Had some good moments, but also some off moments.
Paula said
: Paula thought he should play acoustic guitar for some reason. No clue what she was talking about.
Simon said
: Song was atrocious, guitar playing not much better.
The Verdict
:
Wow, Scott is rocking the ax! Kind of funny that whips out a black guitar off a heavy metal video set for his most soft-rock performance yet.
Unlike Lil, Scott is improving is handling of the softer moments in songs and learning to support them and make them interesting. A very good song choice that really highlights his ability to belt. And that guitar! Scott kinda rocked tonight in the same way the Christopher Cross kind of rocks. Plus, for the first time since he's been on the show it's not really possible to mock his haircut. What will I do now?
Grade: B
Prediction
: Very iffy. The judges didn't like the performance very much, but the audience seemed to really enjoy it. Hard to see him going home after that.
Allison Iraheta Sang "I Can't You Make You Love Me" by Bonnie Raitt
Randy said: You can sing your face off like
Kelly Clarkson
. The best of the night.
Kara said: Made adult content believable and young. Let's go make a record.
Paula said: Hear one note and it's undeniably Allison. Gave all of your heart to this song.
Simon said: I thought it was really very good. (Then he went off on how Allison isn't likeable. Isn't she the most likeable contestant?)
The Verdict
:
What a perfect song-choice for Allison's gravelly-toned rock 'n' roll voice. A nice restrained performance from the normally over-enthusiastic Allison. It never really amounts to more than really good karaoke, but she hits some excellent notes and continues to command the stage like a seasoned pro.
Grade: B+
Prediction
: Despite Simon's strange claim that she's not likeable, Allison shouldn't feel any hatred from America. She'll cruise
Matt Giraud Sang "Part Time Lovers" by Stevie Wonder
Randy said
: Vocally one of the best of the night.
Kara said
: Incredible on every level.
Paula said
: Two words: Standing O!
Simon said
: A million times better than last week. Well done
The Verdict:
This is an excellent reinvention of a Stevie Wonder song that always sounded a bit like an Eddie Murphy knock-off. He makes it sound more like
Maroon 5
mixed with part of
Robin Thicke
. Giraud works the stage better than anybody (yes that includes Adam) and molds this song perfectly to his buttery white-boy soul voice. An excellent performance.
Grade: A-
Prediction: It doesn't help that the judges barely got to talk, but after a performance that good was there really anything left to say?
Adam Lambert Sang "Mad World" by Tears For Fears
Simon said
: Running out of time we only got to hear from Mr. Cowell who simply gave Adam a standing ovation.
The Verdict
:
Another copy of a cover version as Adam does the Michael Andrews version of this song from "
Donnie Darko
". It's still very theatrical as Adam always looks like he's sing-acting rather than simply singing a song with a choreographed rise that may as well have come from Martha Gramm.
Okay, enough with the Adam-bashing for this installment. This is another incredibly well-sung performance from the mind-blowing vocalist. He uses the lighting and television aspect of American Idol to perfection. This is an example of theatrics enhancing his performance rather than distracting from it.
Grade: A-
Prediction
: He's as safe as safe gets.
FINAL THOUGHTS
This seemed like another clunky night on "Idol" until Allison, Matt and Adam blew the roof off the building with the final three performances that certainly make them locks for next week. It's pretty clear that along with Danny those three are the best in the competition. That would be a Final Four that could outshine Anoop's Tarheels.
Speaking of which, Anoop, along with Scott and Danny, was very solid tonight as well. The former two came late enough in the show that viewers will certainly remember their performances so justice should be served there, and Danny has enough support to carry him from any spot on the lineup.
That leaves Lil and Kris. They were certainly the worst two of the evening and came second and third - pretty much a death sentence. They'll certainly be in the bottom three with either Scott or Danny joining them. Danny simply because of the fact he went first and Scott because of the judges' drubbing. Since we won't wimp out with non-predictions here, we'll put Scott in the bottom three, but it won't matter.
It's going to come down to Kris and Lil tomorrow night. Lil was the early favorite, but Kris seems to have picked up more fans since the show hit the big stage. Looks like Lil is going to get voted out tomorrow, though I suspect the judge's save just may keep her around one more week.
Who do you think should go home tonight? Let us know in the comments!
Story by
Andrew Payne
Starpulse contributing writer