Theatre Talk: 'How The World Began' With Jarrett Sleeper
Jarrett Sleeper knows a thing or two about How The World Began. He gets to debate that very subject in South Coast Repertory's newest play.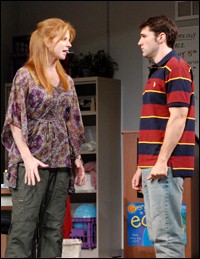 Southern California may be known as the home of film and television, but it also has a vibrant theatre scene. In the same place where you look for your favorite stars, you can see quite a few names from TV and film right in front of you on stage. In recent memory, the likes of Laurence Fishburne, Alan Cumming and Michael Trucco have been found in our regional theatre scene.
At SCR in Costa Mesa, Catherine Trieschmann's How The World Began asks audiences to entertain discussion on the oft-controversial topic, when high school biology teacher Susan Pierce (Sarah Rafferty, also known as Harvey Specter's longtime assistant Donna on Suits) makes a flippant comment that unsettles one of her students, Micah Staab (Sleeper, pictured above with Rafferty).
Between Susan, Micah and his guardian, Gene Dinkel (Time Winters), what unfolds is an impassioned dialogue without a real answer - and a fascinating experience without the fourth wall that exists in television and film.
How The World Began had its opening night Friday - and as he prepared for the show's run, I sat down with Jarrett to talk about its complex material and the experience of mounting a brand-new production for the stage.
How did you come to be involved with How The World Began? What attracted you to the role?
I first worked at South Coast a year and a half ago on a new play called Doctor Cerberus. I had a great experience and got to know the people in the theatre. I kept my relationship up with them, and then this show, there's a playwrights' festival and I read the play for that. The show was really well received and it just went really well.  They decided they were going to do the show, I read for it again, and we decided to do it together again.
What were your first impressions of the script?
The play is so good. It's interesting because it's about a controversial topic and there's a tendency with those kind of plays to seem like "a very special episode." I'll admit that when I read the script, I was like, "Issue play," but the play is so human and so alive and nuanced. We have very extreme positions and opinions, but to have them be dimensional characters anyway --  they're reflective of that sort of intersection of politics and intellect and belief. It's a complicated show. It's a very beautiful show dealing with some heavy issues.
It's not easy. It's kind of the hardest show I've done in a long time. It's so tense and nuanced and you go through some heavy stress.
Last Saturday was the world premiere. What is it like for you tackling a play and a role that's never been performed before?
I think it's very exciting. Theatre's interesting in that plays are done over and over and over again, and people get excited at the chance to play a role. There's the opportunity to do these things, and you don't see that in film and TV. So there's something to be said for doing plays that haven't been done before.
The most exciting aspect is the ability to work closely with the writer, when that's an opportunity, because you become part of the collaborative process. You get to be able to put your mark on it and influence it. There's no outside pressure to live up to some preconceived notion of it.
This play's interesting because it's already slated to be produced in London in the fall and New York early next year with different casts - so if the show ever gets published [in print], I'll be part of the original cast.
The entire play takes place on one set with three characters. What's it like working on a piece with such a small scope? Is it limiting for you?
I haven't done a big cast play since I was like eighteen. Most of the theatre I've done is more along these lines. It's sort of the opposite of limiting. When you have to add in a ton of elements, there's so many more concerns going on. It's fun, it's wonderful, but it's a different kind of storytelling. There's an incredible freedom and possibility in small shows like this. There's this really amazing thing that happens. Suddenly, everybody's in the play.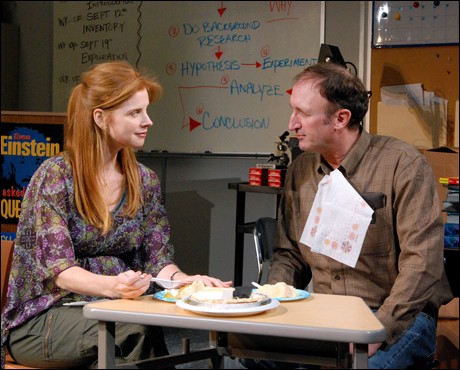 Can you talk about working with your fellow cast members? You've seen a change or two before you ever opened.
I've been kind of working with it since the reading. I had a whole cast for the reading; the reading cast is never the official cast. It's just the people you work on it with. Then we had another cast put together, and then the woman playing the teacher had to drop out and we got Sarah [Rafferty]. She's amazing.
The whole cast is amazing, but Sarah is pregnant, playing this pregnant character, doing this play. She does the work and encourages other people to do the work. She's like five months in so to take on a role that's as big as she's taking on - even just standing up for the whole rehearsal is a tiring thing.  She was even talking about that she talked to her doctors about if it affects the baby.
I said to her, "Why are you doing this again?" She was like, "It's such a good play." All of her team encouraged her to do it and I'm so grateful. She's on this amazing TV show and she's busy in her life, and then on top of that, "The show's too good, the part's too good, I have to do it." That blows my mind.
Time [Winters, pictured above with Rafferty] is an amazing actor. He's done like two hundred shows on Broadway or something like that. To work with people who such consummate professionals is always a treat. Everybody's got this really altruistic drive toward greatness.
You've been through previews now. How much really changes during a play's preview run?
It's interesting. Most rehearsal processes I've been in haven't taken advantage of that, but they are for this one. It just depends production to production. Broadway does weeks and weeks of previews and big changes can happen. I don't know that a lot is going to change in this production. But sometimes those little nuanced moves can be the hardest to start applying.

What brought you to the theatre initially? Do you prefer it over television and film?
I guess I prefer them for different reasons. I don't know if I could do this show for a year and a half. It's really a challenging thing to do certain plays over and over again.
The money's better in film and TV, and that's always appealing. The way I got into acting was watching Star Wars. I love movies and TV, but theatre is so wonderful. It's so real. You have the ability to go through a whole arc of a story without chopping it into little takes.
TV and film is really an editor's medium. They can pick the takes they like. But to get on stage for an hour and forty minutes and not leave it, and have to do real emotional stuff and get away with it, you have to know what you're doing.
What would you recommend to our readers?

There's a musician named James Blake who is amazing. I've been crazy about his record lately. I think that's really moving stuff. The last book I read was called The Philosopher and the Wolf.
Lately I've been going back and watching DVD's of things like It's Always Sunny In Philadelphia and 30 Rock. Last night we watched Grosse Pointe Blank. It's one of my favorite movies ever. I just filmed a small part on Dexter; I love Dexter.
Do you have any future projects after the play closes that we can look forward to?

I'm looking forward to visiting my family and taking a minute to myself. Right now, auditions and stuff are happening. I've got some projects; I did a show last year of a character I put together myself. It was an improvisational zombie show. Around that, my friends and I have written a pilot. We're looking to shoot some proof of concept stuff for that after the show's done. But nothing concrete.
My thanks to Jarrett for sharing his insights about theatre with us! You can catch him on stage in How The World Began at South Coast Repertory in Costa Mesa through October 16. For tickets and more production information, visit the SCR website.