Theater Review: 'Nathan Burton Comedy Magic'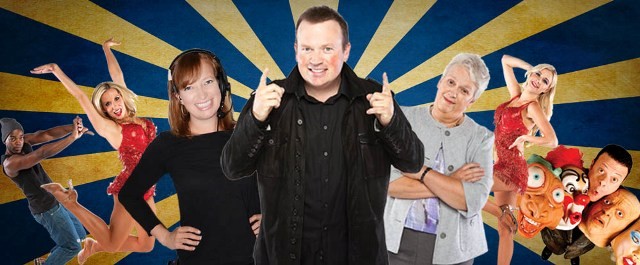 Magic isn't all life and death. Sure, watching something like David Copperfield vanishing the Statue of Liberty is epic, but there's something to be said for an illusionist who doesn't induce a heart attack. For an act you can enjoy with your friends or your family, and leave just appreciating instead of trying to figure out how it was done. Enter Nathan Burton, whose nightly show at Planet Hollywood will induce laughs and warm fuzzy feelings while still impressing you.
You'll likely remember Nathan from his multiple appearances on America's Got Talent (he competed in seasons one and four, and guested in season seven), and it makes perfect sense why he keeps turning up on TV. You want to spend an hour of your evening with this guy. You'd want to get a few drinks with this guy. You'd trust this guy to watch your house.
With plenty of charisma and effortless comic timing, he puts the audience immediately at ease and reminds us to stop taking everything so seriously. The show he's put together will remind you of when you were younger and just having fun with your friends; you didn't necessarily care about doing something amazing, you just wanted to have a good time. Not only does Nathan deliver a good time, but unlike you and your friends, he can actually do something amazing.
The pieces in Nathan's show are as hilarious as they are entertaining, whether it's a giant hair dryer or the "Barbecue of Death," which is as intriguing as it sounds. With disappearances, reappearances, and the good old assistant in a box trick, he's got a firm grasp on the fundamentals of magic, without needlessly showing off.
What really makes the show, though, are the little things that go with all the well executed illusions. His introductions to tricks will crack you up; listen closely to the introduction for "Barbecue of Death," for example, as he introduces it with a purposefully overdramatic echo. (In fact, listen closely period, as Nathan samples some great music in his show. This may be the only place we've ever heard "Cosmic Castaway" by Electrasy.)
There are showgirls. Pop culture references abound. He even makes a Home Depot reference funny. What it all amounts to is a magic show that you can enjoy with your friends, your kids, or your parents. It's some of the most fun you'll have in Vegas. And perhaps even more importantly, it's a magic show that reminds us that while huge illusions and death-defying stunts are great, there's plenty of magic to be found anywhere, as long as you've got imagination.
We'd be remiss if we didn't also mention Nathan's colleague, Armando Vera, who has his own 45-minute show earlier in the evening. Armando specializes in close-up magic, which is exactly what it sounds like; his demonstrations take place literally right in front of you. You'll be surprised by what he can do with a deck of cards, while you'll probably still be laughing because there's plenty of humor in his act as well. (Separate tickets are required for his performance, which you can purchase at the box office simultaneously.)
It's a perfect double feature. Nathan and Armando are great entertainers for the whole family, and great inspirations for young magicians as well, because they put the fun back into the art of magic.
You can catch Nathan Burton live at the Saxe Theater at Planet Hollywood Las Vegas; tickets are available at the box office or directly through his website (nathanburton.com). You can also follow Nathan on Twitter (@NathanBurtonCM).
(c)2014 Brittany Frederick. Appears at Starpulse with permission. All rights reserved. No reproduction permitted. Visit my official website and follow me on Twitter at @tvbrittanyf.