Theater Review: 'Criss Angel MAGICjam'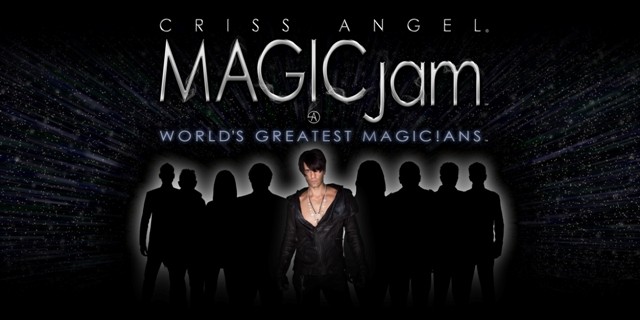 Criss Angel MAGICjam is not Criss Angel BeLIEve. Yet it never pretended to be. The limited-engagement show, which began its two-month run at Luxor Hotel and Casino last Tuesday, is an entirely different experience - the best variety show in Las Vegas.
Nothing can ever compare to BeLIEve, one of the great entertainment experiences in the world. And no one can match Criss Angel, who's well earned his Magician of the Century title. Yet after he suffered a severe shoulder injury during his double straightjacket escape in Times Square last year, a Plan B was needed for his intense live show. Launching a new production kept his talented cast and crew working through his recovery. And MAGICjam, which Angel wrote, directed, and hosts, is an oddly brilliant idea - a showcase of the entire art of magic.
What we think of when we consider magic barely scratches the surface of what it really is. There are many different types of magic, and the magicians themselves are almost as varied. Where BeLIEve is the flawless execution of one artistic vision, MAGICjam is the assembly of several talents; it's the buffet, rather than the steakhouse. And it's a perfectly structured buffet, at that. The lineup includes everything from traditional magic to comedy magic, mentalism and close-up magic - the running order keeping the audience surprised in one act, laughing the next, and back again. MAGICjam should do a fine job of expanding people's definition of magic.
Take the two comedy magicians, who almost steal the entire show. Wisely, it's longtime Angel associate Nathan Burton who bats leadoff, and it will take you about two minutes to understand why. Burton's act is engaging, with the same effortless charisma as his colleague, and illusions that are tremendously fun. A highlight of the evening is Burton's "Microwave of Death," which is exactly as fun as it sounds. Later on in the show comes Russ Merlin, who does a bit involving four semi-willing audience members and clown masks that will have you crying with laughter. The two of them clearly love what they do, and they demonstrate the fact that magic doesn't always have to be high-stakes, super-serious stuff to be fantastic entertainment.
There's also Burton's own opening act, Armando Vera, who specializes in close-up magic. His act involves just a handful of props and a card table. Close-up magic is possibly the most difficult form of magic, and yet it's deceptively simple to watch. As Vera pulls off illusions just feet in front of your eyes, that's real talent without the need for smoke or mirrors.
Watching these acts that are so different from what Angel does is a definite change of pace. But never fear, there's still more than enough of his work to appreciate in MAGICjam, particularly if you're a fan of his Spike TV series Criss Angel BeLIEve. Two members of that show's magic team, Banachek and Krystyn Lambert, appear here with Krystyn performing the same pieces audiences saw her rehearse in the episode "Elephant Herd Vanish." For those of us who watched that and saw how much effort she put into her rehearsals, there's something gratifying about seeing Krystyn execute her portion of the show with grace and style. Banachek is the coolest head in the room while he's busy getting into everyone else's; he has complete command of the stage, not to mention the best entrance by anyone not named Criss Angel. It's fantastic to see these two folks in action in their own right after watching them support Criss on television.
Then there's the man himself. When it would've been easy and probably better for his health to put his name on the top line and spend the evening introducing everyone else, Angel's still in action for MAGICjam. He performs for about 45 minutes throughout the show. That he's here at all is something to be admired; the fact that he still retains the same connection with the audience and is still able to execute some of his best illusions is nothing short of awe-inspiring. Wisely, he keeps his appearances broken up throughout the show until its final act, because watching him work reaffirms that there is absolutely no one like Criss Angel.
What we have, then, is not something that approaches the heights of BeLIEve, but a live show that ventures in a new direction gratifying in its own way. MAGICjam gives new audiences a chance to be exposed to a variety of magic, TV fans a chance to see familiar faces in action, and there's still more than enough of the Magician of the Century in the mix. It might have started as a Plan B, but the result is an A-rated magic show in its own right.
Criss Angel MAGICjam runs at Luxor Hotel and Casino through March 29. You can purchase tickets via the Luxor website. For our review of Nathan Burton Comedy Magic, Nathan Burton's headlining show, click here.
(c)2013 Brittany Frederick. Appears at Starpulse with permission. All rights reserved. No reproduction permitted. Visit my official website and follow me on Twitter at @tvbrittanyf.