Theater Review: "9 Circles"
The short version: in 9 Circles, Patrick J. Adams gives the best individual performance on stage that I have ever seen.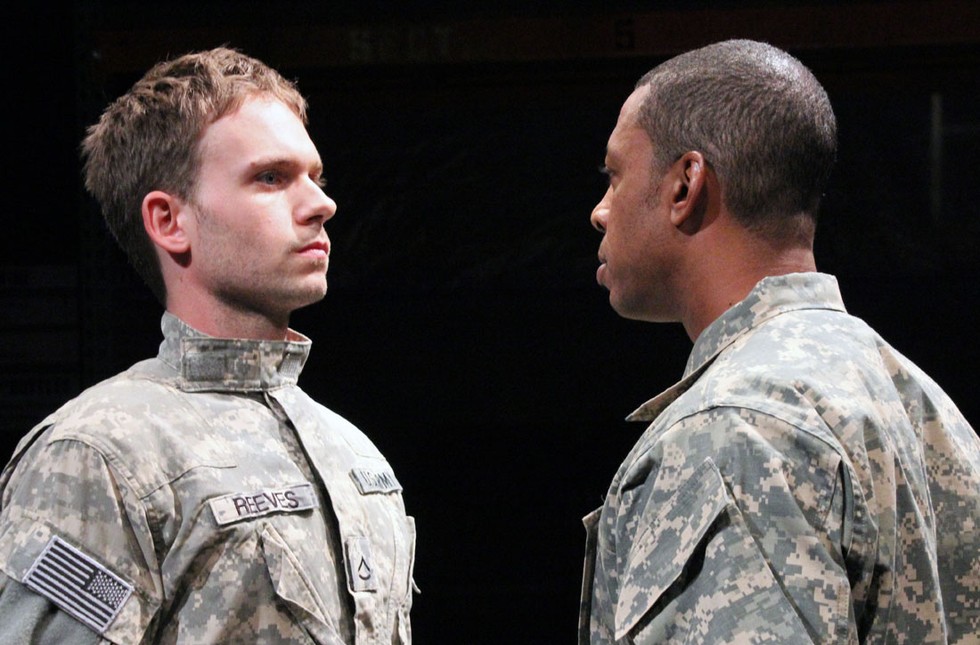 The long version: the Bootleg Theater production is mindblowing. I would call it the second-best play I've ever been lucky enough to witness, behind only Daniel Craig and Hugh Jackman in Broadway's A Steady Rain in 2009. I mention that because that production had plenty of star power, money and publicity behind it. Adams and the cast and company behind 9 Circles have achieved something equally as compelling - and done so with a four-person ensemble and a minimalist set in a relatively unknown Los Angeles theater that seats less than a hundred.
A production like this is the truest test of talent. There are no special effects to distract. There's no lavish set to hide behind. No company to disappear into. No, what must hold our attention for nearly two hours without pause are the two most basic components of the art: the actor and the text. We learn quickly if they're strong enough to do so. 9 Circles didn't just hold my attention. It provoked an emotional reaction. At its end, I was frozen in my seat, tears in my eyes and my nerves jumping, trying to quantify what I had just seen.
The play reaches that rarefied air that all arts - not just theater - ought to aspire to: that where it transcends entertainment and becomes a human experience.
What are the secrets of its success? Chief among them is Adams, who delivers one of the most astonishing individual performances I've ever seen, and certainly the best I have ever seen in theater. I knew that he was a pleasant surprise in Suits, and having interviewed him just the other day, I got to know him personally. But in the role of Daniel Reeves, a discharged soldier on trial for his actions five years earlier in Iraq, he is an entirely separate individual - a revelation. There's not a trace of Mike Ross or Patrick Adams in that room at any moment; there's only Daniel Reeves, with his flawless Texas accent.
Few and far between are the actors who can make you forget that they are playing a role. Adams is one of those talented few. His performance is so intense and so full of emotion and truth that it's a wonder he does this night after night. As an audience member, he broke my heart; as a former playwright, his passion and dedication inspired me to write again. He gives a performance that is not only perfection on its own merits, but one that raises the bar for everyone else, including the audience.
Adams is not alone. Actors Paul Dillon, Joe Holt and Arlene Santana switch effortlessly between multiple supporting roles. They inhabit a very delicate space: not ever competing with Adams' incomparable performance, but never shrinking from him either. They bring each individual character to life, no matter how short the appearance.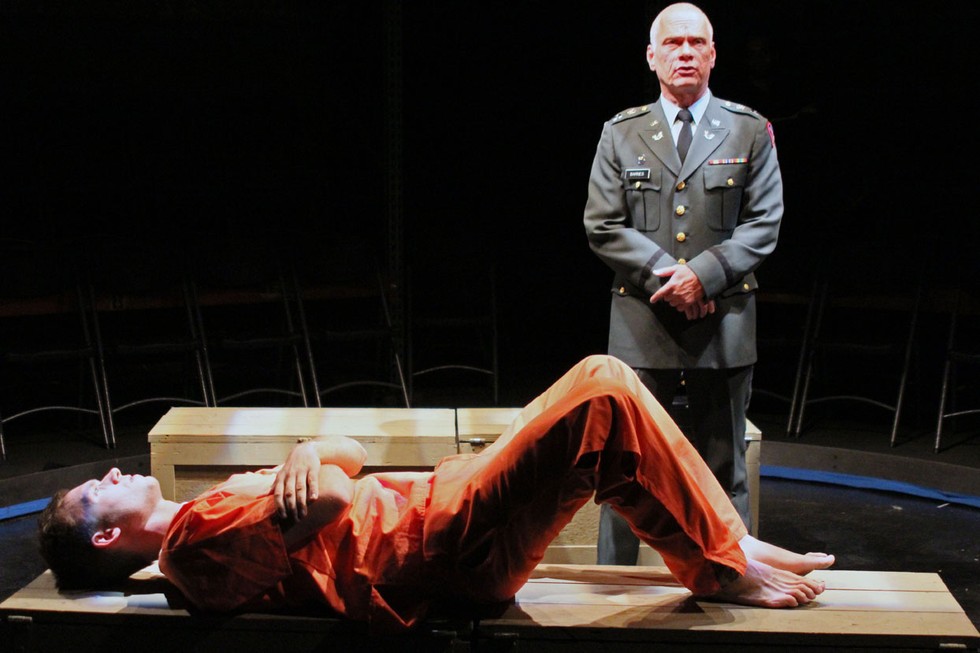 Kudos must also be given to director Justin Zsebe and crew, in particular scenic designer Jason Adams (no relation). The minimalist set design is perfect; as previously mentioned, it forces the audience to keep their focus on the actors. It's also something of a wonder in that it is composed largely of several moving parts that shift back and forth between scenes (or "circles"), allowing for costume changes and changes of setup in mere minutes. I've never seen a cast be able to shift a set and have their lead actor complete a wardrobe transition so quickly. The productions I once worked on would be envious of this cast and crew's efficiency.
That brings me to the text of the play. Bill Cain has written a piece that reminds me a great deal of Catherine Trieschmann's also remarkable How The World Began, in that it raises major issues but does not force the audience into making a particular judgment. It does, however, force the audience to actively think. Is Reeves guilty of the crimes he stands accused of? If he is, why would he do such things? Does the why even matter? These and other questions are raised without us being hit over the head with them or their answers.
Instead, we're left to examine our own thoughts toward Reeves and toward the larger issues surrounding the war in Iraq. There are plenty of references to Dante's Divine Comedy (after which 9 Circles was modeled) and as such to religion as well, but they're afterthoughts.
That's because at some point, 9 Circles stops being an intellectual debate, and becomes an emotional experience. While it engaged me as both a journalist and a screenwriter, it most arrested me as a human being. Watching the play unfold, I stopped looking for an answer or an overall meaning. Instead, I was captivated by Adams' performance and his character's torturous journey. I found myself honestly hurting for a person that I knew wasn't real, but that didn't stop me from sitting on the edge of my seat. It didn't stop me from openly crying.
As a journalist, I admire the skill of the production. As a writer, I am inspired by its depth. Yet as a human being, I know that I have seen a truly heartstopping performance from Patrick J. Adams, and through that, have had an experience of my own that has made me better for having witnessed it.
This is a play that everyone needs to see, because everyone needs to be challenged and moved like this. This is the kind of brilliance that is all too rare - not just in theater, but in any form of entertainment.
9 Circles runs through November 19 at Bootleg Theater in Los Angeles. For more information and to purchase tickets, visit the theater's website.
(c)2011 Brittany Frederick/Digital Airwaves. All rights reserved. No reproduction permitted.