'The X Factor' - Week 2 Auditions Continue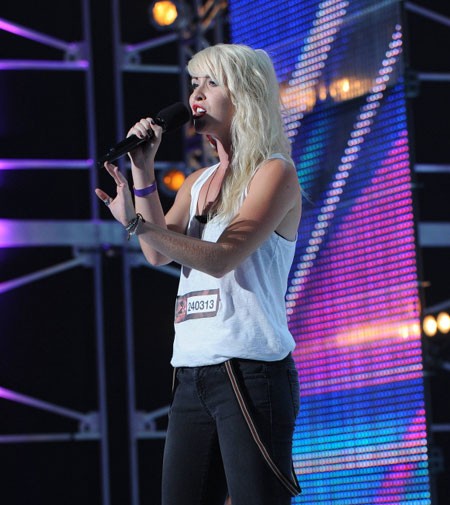 Auditions continued on "The X Factor" as the crew moved to Greensboro, North Carolina.  And while there were some good performances, the drama also continued as storms rolled in on the stage and outside the auditorium.
First up was 17 year old Willy Jones who surprised the judges by performing a country song.  The judges called Willy an original an likable.  Simon said Willy is why he came to Greensboro; adding that Willy had a sensational recording voice and it was a day to remember.  Willy got four yeses for his audition.
But Kalvin didn't fair as well.  While entertaining, the judges gave him four nos.  Simon couldn't understand a word and Britney was afraid that she was related to him.
Julia left her band mates to audition and pursue a solo career; and while she said her band mates supported her, they did not look very happy backstage.  The judges caller her unique and LA said she was what he had been looking for.  Julia earned four yeses for her audition.
Krystin attempted to sing "Don't You Remember" by Adele but Simon said that it just wasn't working.  He asked her to come back later with a song to showcase herself with a classic song.
Jeffrey performed the iconic song "Hallelujah" and brought the house down.  LA called the performance unbelievable and he nailed it.  Britney loved it and Demi said that she had never heard anything like that before.  About that time thunder clapped and Demi said that even God was rocking out.  Simon said it was one of the most brilliant auditions he had ever heard.  After Jeffrey had earned four yeses his four year old son ran out on the stage.  After Jeffrey and son left the stage, Demi called him the Josh Groban of rock and Simon added better.
The thunder changed into a thunderstorm and rain began leaking through the roof onto the judges.
Krystin returned and this time she tried a Whitney Houston song but when the judges told her no she got angry.  Once backstage she threw water at the camera and brandished a chair to fend off security who had been called before leaving the theater.